According to the latest Interactive Europe report, an annual study of over 5,000 people in six European countries by CBS Outdoor International, outdoor advertising leads all advertising formats in driving consumer responses for purchases online, Facebook Likes and the download of apps.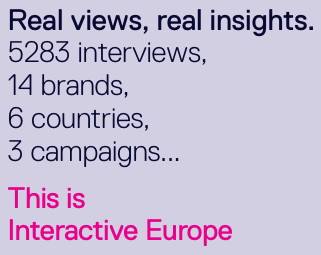 Commenting on the Interactive Europe study, CBS Outdoor International's CEO, Antonio Alonso, told us "The research shows that outdoor advertising presents the opportunity to supplement reach and promote deeper levels of engagement. Additionally, with smart device ownership continuing to grow, even amongst older demographics, it is clear that outdoor advertising is beginning to offer brands new channels for distribution and direct marketing".
In total 77% of consumers reported doing something as a direct result of seeing an outdoor ad, including:
20% of consumers are reported to have made a purchase online after seeing an outdoor ad (up 43% y-o-y) vs 16% for print ads
16% of consumers 'Like' a brand's Facebook page after seeing an outdoor ad (up 78% y-o-y) vs 11% for radio ads
13% of consumers have downloaded an app after seeing an outdoor ad (up 117%), which is almost double the amount who downloaded one after seeing a TV ad (only 7%)
Also the report makes mention of steep growth in smartphone ownership, up almost 34% y-o-y, that has allowed brands to increase engagement with consumers via mobile.
Interestingly however, despite a tenfold rise in 2011 for near field communication (NFC) smartphones, there was only a marginal increase in NFC awareness by consumers (from 6% to 8%) – this, no doubt, reinforces the need for brands to continue educating consumers on the benefits of interactive advertising technologies available, Ed.
This year's survey also evaluated three interactive client campaigns comprised of different categories, markets, formats and interactive technologies. The campaigns revealed a:
45% average uplift in terms of an outdoor ad being 'for people like me' when respondents had interacted with the ad
54% average uplift in terms of being likely to mention the advertising in conversation
45% average increase in terms of having a better opinion of the brand
CBS Outdoor have deduced from these interactive campaigns some 'Golden Rules', as follows: –
The creative should be explicit in communicating the core message and in showing people if and how they can interact with the ad
There needs to be an obvious benefit (and one of perceived value) for consumers in order for them to interact and take away a positive perception of the brand
The implications of the halo effect (positive & negative) should be considered – people will watch others interact both in the physical and virtual worlds
Interactive Europe also included the opinions of 14 European brand owners as a qualitative component to the research. Insights from marketers included; "FMCG brands are those most actively seeking innovation in communication with audiences to achieve cut-through" and "Despite questions around interactive OOH, the majority of European senior marketers are open to the idea and understand the opportunity for engagement".
The full report is available here.
About the Interactive Europe study

Interactive Europe is a quantitative and qualitative study of 5,283 European consumers across six markets – UK, Ireland, France, Spain, Italy and the Netherlands. The research was conducted by Kantar Media and fieldwork took place in October/November 2012.

The report provides a 360 degree view on the interactive Out-Of-Home ecosystem, incorporating the latest views and trends from consumers, big brands, as well as tips and lessons learned from recent interactive campaigns. All statistics quoted in the report and in accompanying press releases have been calculated on respondents who expressed an opinion in relation to questions posed.