Gail Chiasson, North American Editor
One of NanoLumens' earliest customers came back to install a new 7.5' tall x 23' wide NanoSlim DS Design-Specific LED display above the entrance to its busiest convention hall.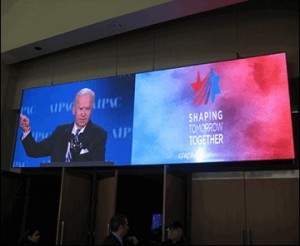 On its busiest days, as many as 15,000 people make their way into Hall D of the Walter E. Washington Convention Center in Washington D.C..
Now, thanks to the new NanoLumens NanoSlim Display, all 15,000 visitors can stay informed and involved in the event underway as they enter and leave Hall D. Mounted just above the entrance to Hall D, the 7.5' tall x 23' wide, 6mm pixel pitch NanoSlim display is drawing crowds on its own and impressing prospective event producers, attendees and advertisers, says St. Elmo Crawford, president of digital conventions, which operates all the digital signage at the convention center.
"When I first learned about Nano umens' display technology in 2011, I immediately thought of Hall D," says Crawford. "But the size requirements were just too unique at the time. With the new NanoSlim DS line we were able to have a display built to our exact specifications, giving us a super bright, energy efficient, long-life display that is big enough to be seen clearly from 100 feet away.
"A projection system wouldn't work here because of the bright ambient light, and any other manufacturer's digital display would have weighed five-to-10 times as much. The NanoLumens display provides 170 sq. ft. of signage space and weighs less than 1,000 pounds. The display needed to be suspended from wires because of space constraints, and hanging a 10,000-pound display where people are walking under it was simply not an option."
Michael Waxer, chief technology officer at Events DC, the official convention and sports authority for the District of Columbia, says that this installation sets the pace for the entire industry.
"We are proud to unveil our newest and largest NanoLumens LED display at the Walter E. Washington Convention Center," he says. "Not only are we setting a digital trend by offering an enhanced event experience, but we are distinguishing ourselves as leaders in the hospitality industry by providing our clients with premier digital service including digital signage, high-speed wired and wireless services, mobile apps and web streaming."
After Digital Conventions began using NanoLumens NanoFlex displays as large mobile signage in 2012, it quickly became clear that convention hall clients, advertisers and visitors were drawn to the displays for their brightness and detail.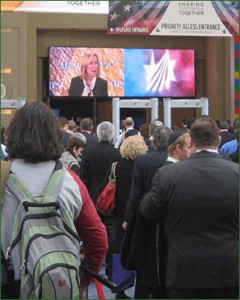 "Our first NanoFlex displays were a hit in areas where we don't have permanent signage, and they allowed us to sell more services to our clients without massive installation costs," says Crawford.
"That enthusiasm carried forward to the new DS display at Hall D, which was installed in early March and used immediately for the 2013 AIPAC Policy Conference. The organizers used it as an information and overflow video display, so people who were waiting in line to enter the conference could watch the speeches from outside the hall. The immediate response when event organizers see the display is 'How do we get that as part of our display package?"
Crawford says that NanoLumens' ability to build displays to meet exact space and shape requirements is going to lead more and more convention centers and large public spaces to develop design-specific displays for advertising and informational purposes.
"I've spoken with the people in charge of technology at a few other convention centers, and after a short conversation about our signage programs they all realized this is something they will have to incorporate to stay competitive and relevant," he says.
"We've had immediate success with this massive display, selling space to several major conventions in the first month after installation. We had a vision that we knew would increase our bookings, revenues and client satisfaction, and NanoLumens took that vision and made it a real, physical display. We look forward to our next NanoLumens purchase and expect to continue spreading its amazing displays throughout the convention center."
NanoLumens' NanoSlim DS Series is a bold departure from the traditional one-size-fits-all design paradigm that has been a mainstay of the display industry for decades. Available in 4mm, 5mm and 6mm pixel pitches, the NanoSlim DS Series allows customers to specify truly unique displays in their designs and open the door for corporations, retailers and venue operators to create a completely original digital experience.