Adrian J Cotterill, Editor-in-Chief
Bloomberg Businessweek magazine launched its latest global brand awareness campaign this week targeting the business and media community in London.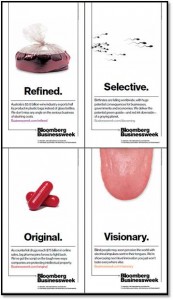 The eight-month campaign will see the distribution of four creatives brandishing the straplines 'Refined', 'Selective', 'Original' and 'Visionary', shaped by Bloomberg's in-house designers to reinforce the brand's leading coverage of the business sector.
The creative will run on six-sheet billboards across central London, the City and Canary Wharf while digital screens will feature the advertisements throughout London City Airport's departure lounges, with brand ambassadors handing out samples of the magazine.
Carl Fischer, Head of Brand Marketing, Bloomberg Businessweek told us "The latest creative executions of our brand campaign continue to reinforce the unique personality and content of Bloomberg Businessweek to our growing global audience."
Sampling of the publication will further extend to Canary Wharf and coffee shops in the City, with digital screens also situated at Canary Wharf and within central business offices. Ambient media will be incorporated into the campaign, with coffee cup sleeves being distributed among the capital's hot beverage drinkers.
Bloomberg planned the creative in-house and bought the inventory through the Media Agency Group.