Adrian J Cotterill, Editor-in-Chief
We are almost ready to announce the final speaker line up for The DailyDOOH Investor Conference which is being held in New York 23rd to 24th October 2013.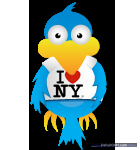 As well as presentations from Searchlight Capital, SCG Capital, Peter J. Solomon Company, Barclays Capital, GrowVC (in fact, almost half of our speakers are from the investment community) and an armchair conversation with Shamrock Capital Advisors we have on the network side Ocean Outdoor's CEO Tim Bleakley speaking about his management buyout, Pierre Richer (President, NEC Display Solutions North America) discussing, warts and all, his travails with VUKUNET in 'A Corporate Startup: How we launched VUKUNET' as well as Cliff Marks, President, NCM.
We also have a number of sessions that will be uniquely of interest to startups – including a look at crowd funding.
Add into the mix, presentations from Ayuda Media Systems' Andreas Souptonuts talking about big data (and its relevance to OOH, DOOH and DpbMedia), Preset Group's Dave Haynes, Real Digital Media's Ken Goldberg and Mark Boidman in his new role at Peter J. Solomon Company and lots more and it looks like we have the makings of a great agenda (and a fantastic two days as part of #Dpbmedia week in the Big Apple).