Gail Chiasson, North American Editor
Now this we can't understand: When you have a videowall as attractive as this one to help draw customers into your store, why wouldn't you want to tell people who you are?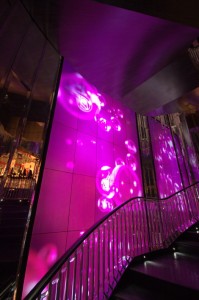 However, that's the case with an unknown lingerie store in London, U.K., that apparently doesn't mind it being written about but doesn't want to be identified. Considering that we know it's the four-floor flagship store of an American firm and that we know it's on Bond street, it seems a bit silly to us.
The attention-grabbing two-story video wall is one of two installations in the store by in-store multimedia solutions provider PlayNetwork, Dortland, Kent, in the U.K.
The company, contracted to enhance the in-store shopping experience of customers, chose Matrox Graphics' Matrox Mura MPX Series video wall controller boards to drive the two installations. Matrox is based in Montreal and has, among others, an office in Harefield, Middlesex.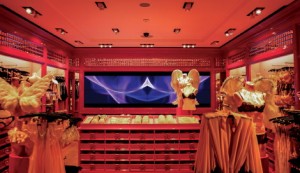 PlayNetworks' task was accomplished through engrossing digital content displayed on the 30-monitor store centerpiece, and on a second, eight-monitor wall in the store's bra salon.
Display walls are controlled using a Matrox-compatible Crestron 2-Series Control System and a rack-mounted Apple iPad, for ease of use.
From the iPad, telnet commands are sent through the Mura Network Programming Interface and then to the Mura MPX boards that power each of the walls. As a result, dynamic on-screen content – such as video feeds to fashion shows and behind-the-scenes commercial footage – is easily managed and. PlayNetwork also provided a ground-thumping sound system.
"The Matrox Mura-based video walls contribute a great deal to the overall immersive customer experience," says Dharmendra Patel, PlayNetwork EMEA managing director. "Mura's flexible board design and the degree of control enabled through its Network API were key factors in the success of our installation."