Gail Chiasson, North American Editor
This month we introduce Sapna Budev, director of strategic initiatives for the International Sign Association based in Alexandria, Virginia, where she develops and executes strategies and engagement plans for emerging sectors of the sign industry.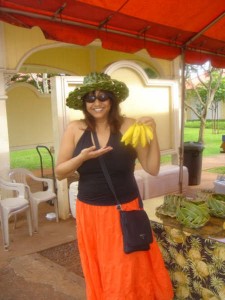 Describe your personal workspace.

I have a lovely, light-filled office in calming blues and greens, with photos of both my home and work families. There are decorative items from Thailand, Turkey, China, and Argentina collected during my travels as ISA's international program manager. My prized possession is a marshmallow-soft leather pouf chair which I've owned for 15 years. It provides relaxation, refuge, and naps for most of my colleagues. I have also invented my own intricate vertical filing system which requires ample desk space and no actual file folders. Others call it "controlled chaos". OK, fine, they just call it chaos.

How do you get to work?

I am lucky enough to live in Capitol Hill and work in Alexandria, which translates to a reverse commute in both directions. I hop in my Prius, jump on the GW Parkway and sip my home-brewed Sumatra coffee while enjoying a view of the Potomac River, the Washington Monument, and the hundreds of poor commuters trying to head into DC.

What is an average day like?

We start our day with gentle nudges from cold, wet dog noses – no need for alarm clocks in our house. After a brisk run in the dog park, my husband (a political advisor on Capitol Hill) and I chat about current events over breakfast before departing for work.

My job is an awesome adventure every day. The nature of my work is to find new realms which create value for the sign industry. That could mean meeting with the administrator of Occupational Safety and Health Administration about regulatory issues in the morning, writing a concept paper on 3D printing in the afternoon, and chatting with design firms, architects, downtown developers, and end users about trends in signage before ending my day. Since I get such a broad perspective of the sign industry supply chain and downstream effects, I can truly evangelize the work of our members. Signs are way cool, I promise you that.

What is your favourite activity outside of the work place?

There is no chance that I could pick just one favorite thing, so here's my top five:

• Experimental cooking – I even became a raw foodist for five weeks to see if I could make delicious food without cooking it. After the fourth dinner of salad with olive oil/lemon dressing, my husband began 'working' late and smelled suspiciously of bacon when he got home.

• Spinning – I love this exercise. It's addictive, competitive, and so fun.

• Hiking with the dogs – We live near the National Arboretum: 400 acres of botanical delight and a hidden gem of D.C..

• Movies – We watch one or two movies per week whenever possible, usually one blockbuster and one independent art film.

• Reading – I have been known to devour five books in one week. If I ever canceled my Amazon account, I believe it would reduce Jeff Bezos to tears.

What is essential to you being able to work happily?

Camaraderie and empowerment. We are a small organization with a big mission, so friendship and trust create a powerful support system within our team. We have leadership that supports innovation and encourages individual exploration of new programs and opportunities. This creates a feeling of ownership, freedom, and a deep desire to work towards success.

I also love getting to know people in all walks of life that exist in this industry. I gain much professionally and personally from conversations I have with executives at Fortune 500 companies; little five man sign shops in Bangkok; branding agencies in New York; design firms, commercial printers, substrate suppliers, distributors, digital signage software companies, etc.

How flexible are your working conditions?

Our staff does a considerable amount of traveling for advocacy, education, and events, so our environment is very friendly to differing needs. Some people are here at 7am while others stay until 7pm. ISA is always understanding of staff family and medical needs which allows us to work hard and effectively within our comfort zone, rather than a rigid 9-to-5 structure.

What do you think your employer looks for in its staff?

I think creative thinkers and passionate advocates feel at home here, but ISA is conscious of the value of deliberate, strategic, and reasoned arguments. Therefore, I believe we have a wonderful mix of right- and left-brained staff with a common thread of high intelligence and problem-solving acumen. Many of us have been together for eight or nine years, so we've become a family. This puts us in the enviable position of actually being able to choose our family, so I think we do look for people who are goofy enough to bowl in our plastic pin alley or who can bake a darn good cake.

What suggestions do you have for your company?

We need a ping pong table. Also, a massage therapist specializing in Achilles Tendonitis, a sports injury which may result from excessive ping pong playing.

What is the most frustrating thing about your daily work?

Too many ideas, not enough hours in the day.

What do you like best about your job?

Building something out of nothing. Often, we find 'hidden' problems like members struggling with international trade or having trouble deciphering Americans with Disabilities regulations and sign codes – or, on a larger level, members who want to be more collaborative with architects and designers. I get to find these areas of possibility, figure out how to solve the problem, and build programs and services that lend solutions. I'm a research junkie and love the process of developing expertise in areas that were previously undiscovered by ISA. It also makes me a killer Trivial Pursuit competitor.

How open is your company to new ideas and suggestions?

Everything I do is about new ideas and suggestions, so the fact that they've kept me on for eight years is testament to ISA's fearless foray into the unknown.

How much responsibility have you been given?

I have found throughout my entire career that most people will be given as much responsibility as they can handle. I remember one situation that occurred six months after I started here. I was working on international development and was scheduled to fly to Bangkok for the Asia Sign Association's inaugural Expo and board meeting. There was a military coup in Thailand the day before my flight and my employers left the decision to me whether I wanted to go. The coup was a peaceful one and I felt comfortable continuing with the trip. So, after 23 hours of traveling, I landed at 7pm and went straight to the pre-Expo welcome reception. The Chairman of the Asia Sign Association informed me that their Keynote speaker had canceled his trip due to the coup and they wanted me to take his place at 9am the next morning. So, with the help of ISA's leadership, who were in our offices (Thank God For Time Differences!), I finished a presentation by 4am, slept for two hours, and delivered my first keynote to 1,000 people at 9am. It was no Ted Talk, but it did cement our relationship with the ASA for years to come.

How green are you and your company?

I managed sustainability initiatives for ISA for a couple of years and fully embrace the 3Ps: people, planet, and profit. We developed guidelines for sustainability and published a case study video on a sign company that takes being green as a core value. Internally, we are all cognizant of energy, paper use, and recycling, but we take it a step further. We have volunteer days, where we all pitch in to help local community centers; we have food drives for homeless shelters; and we buy toys for kids at Christmas. We are also 'encouraged' by one of our colleagues who pops up like Dikembe Mutumbo to block anyone throwing a recyclable into the trash or using a paper plate instead of a reusable one.

What inspires you?

Street art or public art, the Canadian Rockies, my unbelievable parents, the patience and kindness of my husband, the psychology of industrial design, Ted Talks, the unwavering devotion of my dogs, growing vegetables, science fiction, exercise and music, women in power. Oh, I can also be inspired to do the mundane with the promise of Graeter's Double Chocolate Chip ice cream.

What are your ambitions?

To be a farmer. In Hawaii. That is seriously my one true ambition.

If you could change only one thing in your work or workplace, what would it be?

Implement Disco Fridays where everyone has to set their radio, iTunes, Spotify, etc., to the disco station. And all employees are required to groove their way down the hall.

How much time do you devote to social networking?

I am really good about using LinkedIn. I've found it a very powerful tool to establish expertise within communities that don't often think about signage, but are very influential to successful sign programs (i.e. architects, branding agencies, downtown developers, urban planners). If I could just get the hang of the Twitter-verse, I think it could be even more useful. One of these days…..

What are your most useful tools you use to do your job?

The interwebs. I have to do a lot of research before developing new program strategies and have become quite proficient at finding the right web resources to educate myself. I also use Excel extensively. I believe in data-driven strategies, so I spend a lot of time slicing and dicing different data sets to extrapolate a clear picture of member needs.

What would be your dream job?

Farmer – Hawaii. Or maybe running a puppy daycare. No, wait, BOTH of those at the same time.

What makes you laugh during the workday?

My colleagues are goofballs and pranksters. Even our board has been infected by our mischief. One of my colleagues likes to work out during the day, so he keeps spare suits in his office. During a board meeting years ago, he walked in to deliver his budget presentation and found each member of the board wearing a different article of his clothing. He might not have even noticed, but one distinguished board member wore his lovely peach tie as a headband, which, admittedly, did bring out his eyes. And our top prankster was mortified. He had never before had the tables turned on him!