Gail Chiasson, North American Editor
Atlanta-based Visix Inc. has added three new product or product enhancements, all aimed at users of digital out-of-home.
They include:
APPOINTwmv – tailored to clients who already have digital signage software that either isn't easy to use, or who prefer to create their content in PowerPoint. It allows users to publish their presentations as videos from APPOINTwmv and schedule them for playback in any content management scheduling system;
RoomBoard- a new touchscreen wayfinding solution that shows room availability, allows scheduling at the screen and which integrates with MeetingMinder conference room signs;
Animation, Hot Spots and Touchscreen features – for its flagship digital signage software application, AxisTV v.8.2. This includes full screen kiosk capability.
Visix designs, develops and supports a suite of browser-based digital signage products that allows users to create, manage and schedule organizational communications from anywhere and to deliver messages and media to virtually any endpoint. The company offers digital signage software, interactive wayfinding, meeting room signs, and applications for targeted messaging to desktops and portable devices.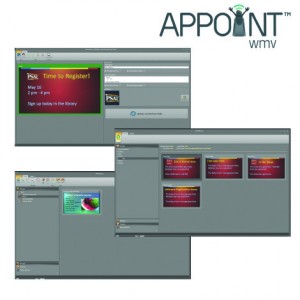 APPOINTwmv is a niche version of Visix' s successful Visix's APPOINT PowerPoint scheduling software for digital signage
"This is a great product for anyone frustrated by complicated creative tools in their software," says Sean Matthews, president of Visix. "Almost every digital signage user is creating at least some of their messages in PowerPoint. This gives them a fast, easy way to render those presentations for quick scheduling."
Users can also select templates from APPOINTwmv's professionally-designed theme library, create messages from those templates, and render them out as videos that can be imported into any signage application. It's priced at $299 for a single user license.
RoomBoard combines interactive wayfinding, room availability visualization and room scheduling on one screen.
"This product gives customers a robust self-service room management solution." says Trey Hicks, chief sales officer for Visix.
The RoomBoard is custom-built with the client's logo, colors and map. Maps are interactive and room availability is instantly recognizable with available rooms in green and busy rooms in red. Point-to-point directions and event schedules can be included, or content blocks can play back standard playlists.
Room availability is fed by a scheduling application, and a hot spot can be incorporated to launch either Microsoft Exchange or EMS, allowing viewers to schedule rooms right at the RoomBoard.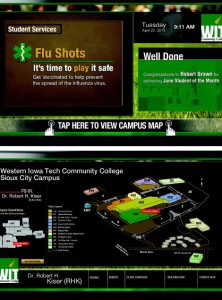 The new animation, touch and other features for AxisRV "are a direct result of client feedback," says Tony Martin, Visix COO. "Digital signage customers are no longer satisfied to just push RSS feeds and videos into blocks on the screen. They want beautiful, dynamic screen elements and interactivity in order to offer POS services and motivate their audience to take action."
Among its many new features, it lets layout creators choose either a single video created as a video loop or a list of video files intended to play back-to-back as a seamless animation for their background. This adds sophistication to the screen design and draws attention to playlists for improved messaging success.