At The Clean Show in New Orleans this week, June 20–22, Clean View Media Network is showcasing enhancements to its DryerAds network for laundromats nationwide and Clean View Media announced the licensing of the innovative production engine that powers the Visible Spectrum, Inc. web-based platform for custom content creation.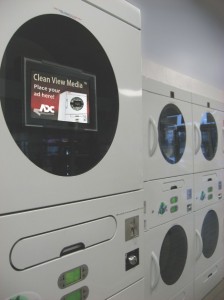 DryerAds is a digital screen set between the two panes of glass in the front of clothes dryers in laundromats. The screen offers advertising, information, games and promotions, and can accommodate QR codes. With today's advancements in technology, you can have a video being presented constantly in front of highly attentive customers who would love to have something better to do than just watch their laundry dry.
"At this year's Clean Show, we are excited to showcase our new content creation capability", said Rich Maddy, CEO of Clean View Media Network.
He continued "We have chosen VSI since it is the most robust platform for scalable production of advertising content. VSI's White-Label License enables us to offer a DryerAd branded web portal so that our customers, both the laundromats and the advertisers, can easily create broadcast quality messages that are customized for targeting specific demographics at each location."
VSI's White Label License provides the ability to store client-owned assets securely in VSI's cloud, unlimited use of the automation function, and the ability to upload and use third-party motion graphic projects as VSI templates.
White Label Licensees, such as CVMN, are able to provide VSI's functionality on their own web site, wrapped in their own branding.
John Malec, CEO of VSI, told us "Visible Spectrum welcomes Clean View Media™ Network to our high profile list of White-Label Licensees. One of the leading indicators of success for a digital place-based network such as DryerAds is the length of viewer dwell time. The local laundromat provides a high dwell time environment and VSI's platform makes it easy and affordable for the end user to create his or her own professional content even if they have no training or graphic arts experience."
About Clean View Media Network

Clean View Media™ Network works in concert with dryer manufacturer, American Dryer Corporation (ADC), the industry's leader in dryer technology. ADC and CVMN have developed a dryer door system called Clean View Media™ that has a high-tech video display embedded into the dryer door's window, which is also connected to the Internet allowing for off-site management of the messages and advertisements that are being viewed. With the use of QR codes, customers are able to access any additional information the laundromat or advertiser wishes. SMS text-based drawings for valuable prizes have proven to be very popular with the patrons, and the "buzz" created by local winners has created stronger customer loyalty and even a larger customer base.