Eye, in partnership with ZenithOptimedia and Meridian celebrated Monday the comprehensive launch of their O2 European Data Roaming campaign.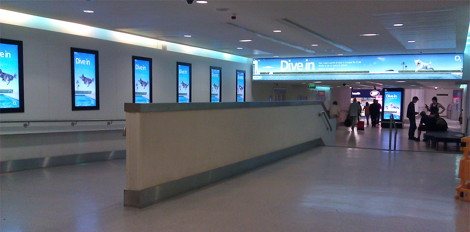 It represents Eye's first truly national campaign and the largest single brand domination of its media estate in 2013 to-date.
The 8 week pan-regional, cross-media campaign promotes O2's European data roaming offering to its 22 million network users. It is running at Gatwick, Stansted, Manchester, East Midlands and Belfast International airports which collectively reach an audience of 80 million passengers per annum.
The campaign is fully mobile-enabled and signifies the first time that Eye has run interactive content simultaneously on its media wall estate at both Gatwick and Manchester airports.
O2 is also the first brand to feature on Eye's new Terminal 1 departures gateway site at Manchester Airport, which consists of six digital multi-screens, backlit LED lightbox and a digital 6- sheet. The latter routes passengers to an informative and O2 branded landing page, and the two interactive media walls invite flyers to upload and edit holiday photos for real-time viewing via Instagram and Twitter, using the hashtag #O2Travel. The mobile connection therefore represents the start of the customer journey.
Cameron Owens, Advertising Manager at O2, comments: "We are excited about this campaign which is being promoted through various channels including outdoor, mobile, online and in-flight media. The airport is a particularly ideal environment for us to message O2 travelling customers and support our vision of enabling our customers to make the most of their world."
Emily Simpson, Client Planning Manager, ZenithOptimedia, adds: "The O2 Travel campaign is a fantastic example of the type of innovative work that we implement for O2. It has been a pleasure working with Eye who have enabled us to deliver impact through the use of pioneering media across key UK airports."