Headquartered in Vanderbijlpark in South Africa, ArcelorMittal was founded in 1928 and the company has over 9000 employees, revenues of R30.2 billion (2010) and produces over 7 million tonnes of liquid steel annually.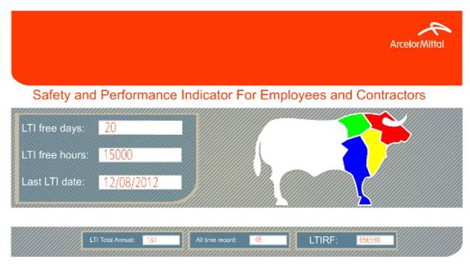 With many of the staff not being office based, meaning that effective health and safety and corporate communication messages are difficult to convey and with employees spread over seven factories nationwide ArcelorMittal needed a communication tool to reach all of their staff.
A key feature of ArcelorMittal's solution is their Virtual Ox (shown above). The Ox displays safety statistics from each location on different parts of the Virtual Ox and acts as an important incentive. If a factory can go 50 days without a serious injury then an Ox is roasted, with the winning factory employees getting the best cuts!
The whole network is run from ArcelorMittal's head office in Vanderbijlpark via a ONELAN Digital Signage Manager (DSM) that monitors and updates up to 46 ONELAN NTBs in each of the factories.