Gail Chiasson, North American Editor
VeriFone Systems Inc.. international provider of taxi payment and media, is mow taking part in a historic effort to create a new class of For-Hire Vehicles (FHVs) for city's outer boroughs.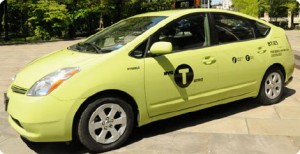 Jason Gross, recently promoted to the position of vice-president at VeriFone Systems, managing the strategy, marketing, product and operations teams, told us that VeriFone is the first company to begin installing payment systems for the new class of FHVs established to increase service to upper Manhattan and the New York City outer boroughs.
New York City's 'Five Borough Taxi' plan enables the city to sell 6,000 street hail livery permits a year for three years. The new class of FHVs will be green in color and permitted to accept street hails north of East 96th street and north of West 110th street in Manhattan, and all of the other boroughs excluding the airports.
"VeriFone has installed multimedia and payment systems in taxis and for-hire vehicles around the globe, from Brazil to the U.K. and has long been part of the effort to provide a great FHV experience in New York City," says Amos Tamam, senior vice president of Taxi Systems for VeriFone. "Our systems will help expand the availability of credit card payments and in-vehicle entertainment throughout all five boroughs."
VeriFone payment systems are now available to the new green FHV drivers who are required to have installed a Livery Passenger Enhancement Program (LPEP) approved integrated hardware and software system that includes a credit card acceptance device, a GPS unit, a driver information screen, and a passenger information screen enabled with an ADA-compliant payments system for the visually impaired.
VeriFone's FHV LPEP systems are similar to VeriFone systems already available in more than 7,000 New York City yellow medallion cabs. They provide credit, debit and prepaid card payment; text messaging; trip data collection and transmission; a Passenger Information Monitor; and automatic vehicle location system and location services.
Gross says that there are 6,000 licenses available this year, with another 12,000 planned to be issued over the coming two years.
"We are the first vendor to receive approval for our system, and we are installing 10" touch screen tablets to run VNET|TaxiTV," says Gross. "This will greatly expand our network in New York City, in addition to some share of the 2,000 new yellow taxi medallions which are planned for auction. These would be in addition to the over 7,000 – up from 6,800 – that we have today."