Adrian J Cotterill, Editor-in-Chief
It looks like technology hugger Kaveh Memari (sometimes known in title only as Chief Executive Officer at the Rubbish Network) knows how to screw up his PR just as much as he does his technology.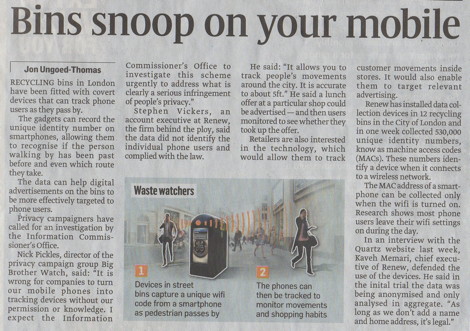 If major UK newspaper headlines such as 'Bins snoop on your mobile' (The Sunday Times), 'City of London Corporation wants spy bins ditched' (Grauniad), or global news outlets 'Ad firm's WiFi trash bins spy on unsuspecting passersby' (London — The Associated Press), 'City of London orders Renew to stop recording smartphone data' (FT), 'City of London calls halt to smartphone tracking bins' (BBC News) and even German publications 'Londoner Mülleimer sammeln Handydaten' (ZEIT ONLINE), 'London verbietet datensammelnde Mülleimer' (Süddeutsche.de), 'Ärger über datensammelnde Mülleimer in London' (DIE WELT) and many others don't kill whatever business he thinks he has by Christmas we don't know what will.
The problem is, it is not just his business that he harms. We (in the industry) all know that there is a lot more to the tracking side of things than the papers make out and it is done and carried out a million different ways with cameras, CCTV, mobiles etc. In reality there should be little to worry an over-excited public (gee'd on by an unknowledgeable press corps) but of course it is all down to the way that it is presented.
We quote from our CEO Spotlight: Kaveh Memari, Renew, London, U.K. back in May "more recently, testing sniffing technology for MAC addresses to build a dynamic flow data for our pods", hardly the best way to express what you are trying to do or even paint a rosy picture of your technology.
The BBC covered the whole saga here, but the Grauniad was particularly scathing in its coverage and there was surely plenty of other negative comment around to either (a) scare off any future advertisers or (b) for the City of London to have grounds to cancel the contract.
It's time for Renew's board to get rid of their CEO who spends far too much time with technology and get someone in who, bottom line, knows that ALL they have going for them is digital posters on rubbish bins (in a tiny square mile of London) AND that ladies and gentlemen is a hard enough sell in itself (yeah, brands want to be on a bomb proof rubbish bin).