Gail Chiasson, North American Editor
Leading into the 10th Annual Advertising Week, being held in New York September 23 – 27, the Outdoor Advertising Association of America, along with Out-of-Home media companies, has launched a campaign that highlights the effectiveness of OOH advertising and its influential relationship to social media.
Beginning yesterday, a network of more than 2,500 billboards across the U.S. is proving to the American public that OOH advertising is #EveryWhereUR.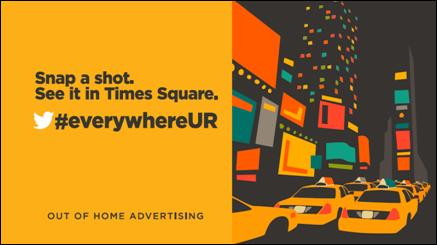 "OOH is the perfect medium to allow advertisers to engage with the public because it is everywhere you are, reaching consumers where they spend more than 70% of their waking hours: outside of the home." says Nancy Fletcher, OAAA president and CEO.
The campaign offers a chance for Americans everywhere to have their personal photos featured on a digital billboard in Times Square and then captured for posterity.
The public is urged to snap a photo and tweet it using the hashtag #EveryWhereUR. The photos will be filtered by the hashtag, censored for appropriate content, and may appear in a photo reel on a digital billboard in Times Square. Thos billboard images will be captured by cameras and sent back to the sender's Twitter account, giving him/her a keepsake of a personal image on a prominent Times Square billboard.
Keepsakes can also be found on the OAAA website.
"The proliferation of social networks has taken OOH to new heights, positioning the medium to emerge as a key advertising option that amplifies integrated marketing campaigns," says Fletcher. "Through this campaign, we hope social media users enjoy seeing themselves in the bright lights of Times Square, and we hope advertisers see the effectiveness and versatility of America's OOH network."