Gail Chiasson, North American Editor
To enhance the ballpark experience for fans of the Charlotte Knights in Charlotte, North Carolina, Toshiba Managed Business Services has partnered with TSE, game productions and software company, to install one of Minor League Baseball's most spacious and brightest scoreboards at the team's new $54-million, BB&T Ballpark.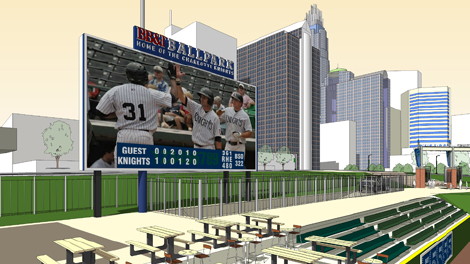 The Charlotte Knights are the Triple-A affiliate of the Chicago White Sox. Beginning on April 11, 2014, the Knights will play their home games at the brand-new BB&T Ballpark, located in Uptown, Charlotte, NC..
By integrating light-emitting diode (LED) matrix technology – including nearly three million LED lamps – within the 30' x 82' scoreboard, fans will be able to catch live and recorded game action in dazzling color starting with the first pitch of the 2014 season.
When entering the newly minted stadium, ballpark patrons will receive the latest on current and future Knights' events including game times, ticket pricing and availability as well as promotional events on a vibrant 14' x 35' LED display. An LED video ribbon board measuring 2 ½' x 42 ¾' with similar information within BB&T Ballpark's five-section ticket plaza will permit fans to make more informed purchasing decisions before a pitch is thrown.
To further enhance the fan experience, Toshiba and TSE will also install an 8' x 120' LED video ribbon board along the right field wall with two 3' x 32½' versions along the field level facade on either side of the stadium. The vivid video boards will feature up-to-the-minute statistics, profiles and photos of all Knights as well as their opponents.
With the addition of 72 digital displays throughout the ballpark's concourse and suite level area, Knights' fans may catch a game's every pitch when buying a hot dog and cool beverage or while simply taking time to socialize with friends.
Toshiba and TSE are also incorporating digital menu boards throughout all of the stadium's concession stands, providing fans with a clear view of ballpark fare and pricing options.
"The audio-visual aspect of our new ballpark was a clear priority for us as it relates to providing the best experience possible for our fans," says Dan Rajkowski, Charlotte Knights executive vice- president and COO. "Toshiba and TSE clearly understood this vision while supplying an impressive digital signage implementation, enabling our fans to better enjoy their time at BB&T Ballpark."
The 10,200-person capacity ballpark is slated open its doors on April 11, 2014, for a game against the Knights' International League rival, Norfolk Tides. For the last 24 years, the team played in Knights Stadium across the North Carolina state line in Fort Mill, South Carolina.
"By working closely with Knights' executives in every phase of the planning, our goal was to deliver a comprehensive digital signage implementation to meet the discerning audio-visual needs of the team's fan base," says Bill Melo, general manager, Toshiba Managed Business Services. "By outfitting the team with one of the largest and visually dynamic scoreboards in professional baseball and more than 200 displays throughout the ballpark permitting fans to stay connected to the game, we believe we have done just that."
"Everyone at TSE Services, is excited to be chosen by the Knights to lead in the design, procurement and oversight of BB&T Ballpark's state-of-the-art LED displays, HD production room and other audio-video technology," says Bob Masewicz, TSE's owner and chief consultant. "We challenged ourselves to integrate more innovative technology aspects to ensure BB&T Ballpark becomes one of the most dynamic stadiums in professional baseball."
Irvine, Calif.-based Toshiba Managed Business Services is a division of Toshiba America Business Solutions Inc., an independent operating company of Toshiba Corporation, the world's eighth-largest electronics/electrical equipment company.
Founded in 1984, TSE offers sports-franchise consulting, A/V production and equipment integration, game-operations software and sponsorship sales systems management software.