Gail Chiasson, North American Editor
Montreal-based Zoom Media, whose services were recently retained by Media Experts to promote the launch of the Bell Canada's Fibe wireless TV service in the Ottawa market, innovated with a creative idea that involved some changes in its own existing network product mix.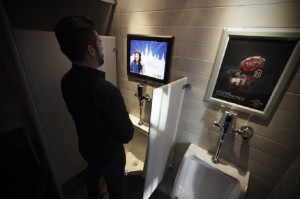 The campaign aimed to demonstrate that consumers could now install their television anywhere they pleased, even in their bathroom.
To transmit the message, Zoom flipped its existing classic boards from vertical to horizontal and dressed them up, mimicking a flat screen television.
In addition, motion detection sensors were added, prompting the digital boards to light up when someone passed in front of them and thereby giving a realistic effect.
The transformed Classic board is only one of this campaign's many executions. The multi-network campaign (Resto-Bars and Fitness) regrouped several out-of-home supports, digital as well as static. In the Resto-Bar network were big banners, regular Classic boards (with four different creatives) and a 15-second Digital Classic spot. For the Fitness network, Media Experts chose to innovate by using Zoom FitTv, the newcomer to Zoom's solutions, in a 15-second format with sound.
The creative agency for the campaign was Zulu Alpha Kilo, Toronto, with the media plan and buy via Media Experts, with offices in Montreal and Toronto.