Gail Chiasson, North American Editor
Liverpool ONE, the retail and leisure destination in the heart of Liverpool, UK, has turned digital as part of an advertising partnership between Grosvenor Liverpool Fund (an international property development, investment and fund management group) and JCDecaux.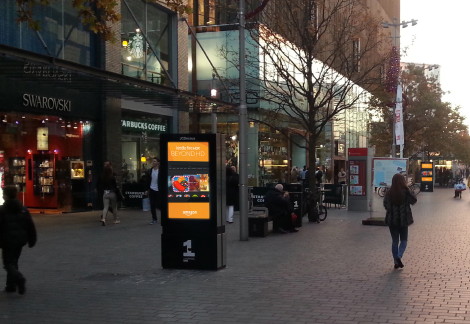 Since mid-November, brands have been able to advertise on a new digital 6-sheet network. The 18 screens in the digital network are strategically located across Liverpool ONE, enabling brands to communicate with fashion-conscious audiences shopping during the day and socializing in the evening.
As the major retail and leisure destination in the region, Liverpool ONE was visited by 26 million people in 2012, 12% up from the year before and offering key high-street and premium shopping opportunities. (The city of Liverpool is fifth in the UK's ranking for retail centres according to 2012 CACI Retail Dimensions report).
"As a leading retail and leisure destination in the UK, it is important our media offer is as dynamic and industry leading as our brand," said Miles Dunnett, head of asset management, Grosvenor Liverpool Fund, at the introduction of the new digital screens. He said that, working with JCDecaux, the companies will "create opportunities for advertisers that will enhance the consumer experience, with targeted, relevant content on state-of-the-art digital screens."
Spencer Berwin, managing director – sales, JCDecaux said, "This is a powerful new opportunity for brands to reach consumers in Liverpool's number one retail destination and is an important addition to our national digital network of premium malls. This 100% digital network will provide time-sensitive, content-rich and dynamic campaigns for brands, reaching consumers in this city-centre outdoor shopping destination."
Liverpool ONE offers a range of premium and high street brands including: John Lewis, Debenhams, Hollister, Top Shop, AllSaints, Zara, Pandora, Paul Smith, and Swarovski. Leading restaurants will include Wagamama, Jamie's Italian, Zizzi and the recently opened restaurants from Byron and Browns.