AOPEN recently announced the opening of the Retail Evolution Lab in its head office in Europe to support retailers in finding the right digital media strategy.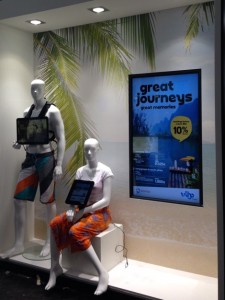 AOPEN is presenting some of these solutions that originated from the lab at EuroShop 2014 in Düsseldorf Germany this week.
The Retail Evolution Lab is aimed at helping retailers stay ahead of the curve. It features advanced technology: from interactive digital signage to capturing data and analysis.
Retail sales are currently enjoying the highest growth in ten years according to Eurostat. And 'start-stop' shoppers are strongly on the rise according to IDC Retail Insights, these are consumers who typically hop among several channels and touch points before making a purchase. These Omnichannel shoppers spend up to 3.5 times more than their single-channel counterparts.
AOPEN encourages retailers to take omnichannel to the next level by hooking digital media channels in with the physical space. Mobile commerce and smart communications technology have enjoyed significant adoption with further growth predicted for the coming years.
"The shopping experience is the biggest opportunity to compete with online retailing," says Gabriëlle Offringa, Marketing Manager AOPEN Europe. "It's about creating an experience, so the shopper stays loyal to the brand. We can talk about how digital technologies can help retailers, but seeing is believing. The Retail Evolution Lab has been a unique opportunity for retailers to find inspiration, it enables retailers to go back to their own stores and creatively modernise own ideas to take advantage of the innovations available to them."
"With the Retail Evolution Lab we strive to give customers and partners the tools to ride the wave of digital communications in-store to strengthen the retail strategy in a competitive landscape. It will allow us to show retailers the most cutting edge digital solutions to help them take their in-store marketing strategy to the next level," Gabriëlle says.
Retailers are encouraged to come and speak to the AOPEN experts at EuroShop 2014 from 16 to 20 February in Düsseldorf in Hall 3 Booth E72, and experience the Retail Evolution Lab first hand. If you want to learn more, then please request a free consult with one of their experts via request@aopen.com.