Gail Chiasson, North American Editor
Digital Caddies Inc., Scottsdale, Arizona-based digital media company that's building a nationwide, proprietary, tablet-based, interactive network on golf courses called The Players Network, announced yesterday that performance of the network is significantly exceeding initial expectations.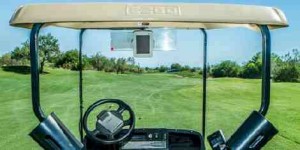 "With an inventory run rate of over 100 million digital ad impressions per month, we are very excited to report that The Players Network is performing beyond our initial expectations," says Mike Loustalot, president, Digital Caddies.
"This amount of inventory has put us in a strong position to be able to secure formal partnerships with third-party ad networks and other ad serving partners to expedite the monetization of our network."
The Players Network is currently installed at approximately 55 North American golf courses, in 4,500 golf carts. By installing multi-functional, Internet-connected, high-resolution tablets in golf carts on golf courses, Digital Caddies is building a proprietary, nationwide, interactive network. As such, The Player's Network offers national and local advertisers the ability to not only reach, but also to intimately engage with one of the most attractive and sought after demographic segments: the golfer.
Once a golf course is equipped with The Player's Network, golfers are treated to a host of useful and engaging applications and services including GPS-based course navigation, touch screen interaction and on-course messaging. The platform can also provide the ability for golfers to notify the beverage cart of their location to receive more prompt service, keep score, set up real-time leader boards, access news, weather, sports, and other online content.
The Player's Network tablets easily install on golf carts and wirelessly connect to the Web through Sprint's nationwide 3G network, providing the golf course a broad portfolio of real-time course management tools via GPS-based cart tracking and communications. These tools enable course operators to improve the golfers' experience and manage pace of play, increase merchandise and concession sales via real-time on-tablet promotions, and access additional revenue streams.
"We've designed our screen to have a combination of primary ad units (full-page interstitials) as well as companion ad units that would run adjacent to other content," says Loustalot. "We've not activated the ful-page interstitials as yet so all the current impressions are being driven by the companion ads. We have a 45-minute program clock that has the golfer in the viewable zone for about 65% of the time."
Advertisers include not only endemic golf companies whose products are found in the golf clubhouses, but they are and can be anyone that wants to reach the golfer demographic (financial services, travel, luxury items, banking, technology, etc.) while they are relaxed and enjoying the game they love.
"The inventory of ad impressions is more than twice our initial expectation, and exceeding the 100 million monthly impression mark is a major milestone for our company," says Brad Nightingale, CEO, Digital Caddies. "This is the evidence that all advertisers want to see, to validate The Players Network as a legitimate channel for their advertising dollar."
Digital Caddies was founded in 2003 and established a solid reputation and customer base using a low-cost, easy-to-use and-implement GPS service for golf courses. The company has transitioned to a new business model by providing golf courses with a tablet-based navigation and content platform that is wirelessly connected to the Internet and installed on golf carts. With the Digital Caddies platform, The Players Network, course operators have the opportunity to increase revenue by promoting merchandise, food and beverage specials, or whatever they'd like through the system. Digital Caddies also can help golf course operators lower operating costs by helping them track golf cart inventory, manage driver behavior, and assist in forecasting agronomy issues.