Gail Chiasson, North American Editor
Christie is demonstrating its expertise in next generation visualization solutions during the inaugural Christie Insight Forum 'The Next Leap of Visualization' March 12, at Interciti Hotel in Daejeon, South Korea.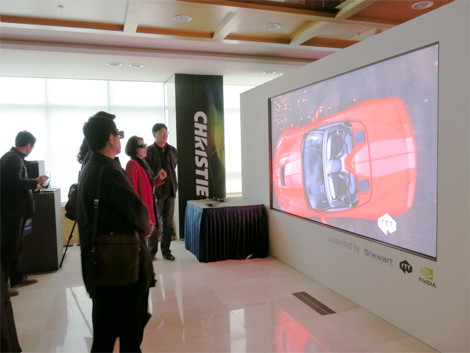 The event showcases highly immersive and interactive advanced visualization technologies that are ideal for industries such as architectural, aerospace, automotive and more.
Among the things being shown is Christie MicroTiles, presented in an array of six units wide by four units high, displaying 4K content.
Christie Brio, a presentation and collaboration system which enables true multi-site meeting collaboration regardless of the technology used or geographic location of participants is also being shown. Once connected to Christie Brio, presentations and high quality media can easily be shared between sites anywhere in the world via IP networks, allowing all participants to see the same content for efficient and effective teamwork.
About 100 guests from various fields such as mechanical, nuclear energy, architectural, aerospace and automotive industries are expected to attend the event, which includes keynote addresses and presentations by Christie executives, as well as presentations on topics related to virtual reality and visualization technologies by Dr Kazuhiko Hamamoto, professor of Information Media Technology, Tokai University; Junard Lee, sales manager, Professional Solution Group, NVIDIA; and Dr Alexis Vartanian, chief technology officer, TechViz.
"The inaugural Christie Insight Forum 'The Next Leap of Visualization' will showcase our highly advanced, next generation visual solutions, as well as bring together prominent members of various industries who will share their expertise and insights on the current and future trends of visualization technologies," says Lin Yu, vice-president, Christie Asia Pacific. "We hope to reach out to stakeholders from numerous fields who are keen to make use of the practically unlimited application possibilities offered by our leading visualization solutions."
Among other demonstrations will be Christie projectors, including the very advanced Christie Mirage 4K25 3-chip DLP 3D projector, which Christie management claims presents a quantum leap in image processing with 4K 3D graphics boasting 4096 x 2160 resolution, 25,000 lumens and 120Hz; and the Christie Mirage HD10K-M 3-chip DLP 3D projector, which features 10,000 ANSI lumens, full HD resolution and up to 10,000:1 contrast.