I believe it was seven years ago when I attended my first Digital Signage Expo – and the majority, if not all, of the attention was focused solely on retail – there was nary a whisper about employee communications.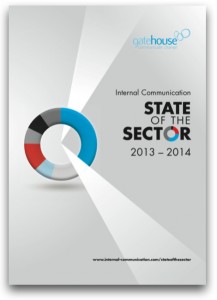 Having spent my career in corporate communications running digital signage networks, I was surprised at the lack of interest with internal communication networks.
Flash forward to 2014 and finally these large and impactful networks are starting to gain the appropriate attention. In the recently-published State of the Sector report, (at least) 50% of companies are using digital signage to enhance employee communications. I say 'at least' because the number could be even higher.
In examining the digital channels being used; it's clear to see that e-mails, intranets and electronic newsletters still reign supreme in the 'internal comms' kingdom.
Look down the list however, and you see 'plasma screens', look a bit further and you see 'internal TV'.
In asking communicators about the channels used, I can see where digital signage fits into both.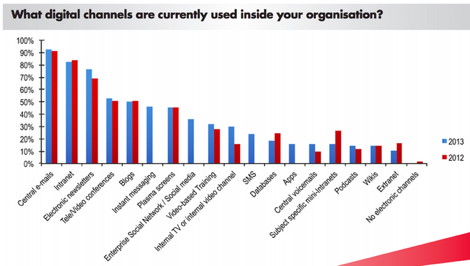 The opportunity for the digital signage industry is not simply to sell more screens into corporate communications, BUT to actually increase the education around them! With so much attention focused on the retail space, I believe that many of this same learning on how to attract customers' attention could easily be applied to employees (in a responsible way of course) – witness Téléciné Multimedia's James Fine presenting 'How to Score Internally With Great Content' at our next Employee Communications Thought Leadership Summit, Ed.
So many companies are still relying on printed communication – and this isn't a bad thing. With all of the technology we have, print is still the most mobile form of communication. It never runs out of battery. Never needs a WiFi signal. But we are all aware of its limitations, too. Just take a look at how many are using printed posters. Replace those with 'digital posters' and the opportunities are endless.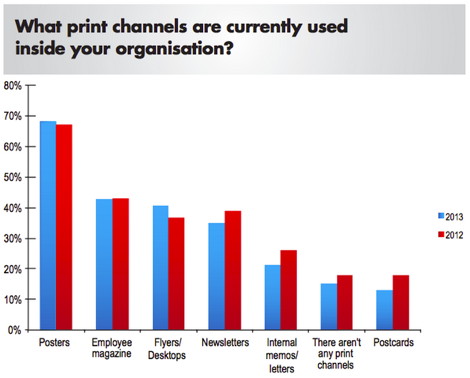 Since 2009, the Gatehouse Group has published its State of the Sector report – taken straight from the document, I quote "State of the Sector is an industry–wide census that aims to investigate the challenges internal communicators are facing – and where their focus will be over the coming months. It investigates channel use and explores the impact of new and emerging technologies like Enterprise Social Networks and Apps".
Even beyond, just those with an interest in the digital signage industry, this Gatehouse Group State of the Sector report is a MUST read. It sheds tremendous insight into exactly what communicators and their companies are doing and thinking.
I will be exploring this whole topic of 'Employee Communications' in my talk 'The Physics of Employee Engagement' in London on May 15 at The Thought Leadership Summit taking place in conjunction with the 6th NEC Solutions Showcase.
Those interested can pre-register here (it's free).