Disney launched an interactive digital out of home campaign starring members of the public to promote the imminent launch of its new musical comedy, Muppets Most Wanted, which premieres in the UK this Friday, March 28th.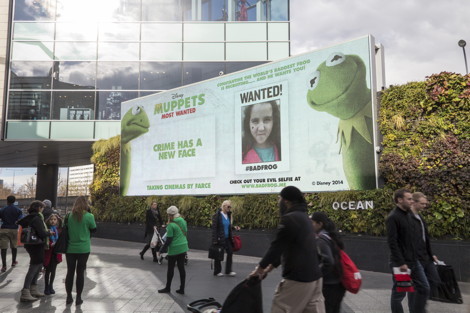 In a movie media first, Disney used the wi-fi capability of Ocean Outdoor's Eat Street screen at London's Westfield Centre together with its online #badfrog campaign to direct shoppers to the movie's badfrog.me promotional website.
In the movie, the Muppets are on a European tour when Kermit the Frog is mistaken for Russian thief Constantine to whom he bears an uncanny resemblance, and is thrown in jail.
Constantine meanwhile joins the rest of the Muppets posing as Kermit. And when Constantine's sidekick Dominic Badguv arrives, the Muppets find themselves caught up in a jewel heist with Interpol on their trail.
The cast includes Ricky Gervais, Tina Fey and Ty Burrell.