Gail Chiasson, North American Editor
Lamar Advertising Company, Baton Rouge, Louisiana, is donating space on its digital billboards nationwide for a month-long campaign to showcase classic Nike Air Max designs from Charlotte-based artist Matt Stevens.
Stevens' iconic illustrations of Nike's Air Max shoe started running on Lamar's digital billboards on March 26, the same day that Nike released the Air Max shoe back in 1987. Over 35 illustrations from the MAX100 Project are rotating on Lamar's digital billboards in 31 states and Puerto Rico. A total of 244 panels are involved.
"We collaborated with artist Matt Stevens as part of an initiative to showcase art on our outdoor advertising displays," says Allie McAlpin, Lamar's marketing communications director. "Our digital strategist is a fan of Stevens' work, and he felt it would be relevant to start running the campaign on 'Nike Air Max Day'.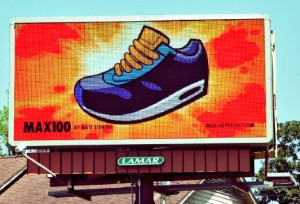 "At Lamar, we're committed to giving back. We donate media space to nonprofit organizations, broadcast emergency messages on digital billboards (through our partnerships with the FBI, FEMA, etc.) and more.

"We love supporting artists, and we collaborated with Stevens as part of an initiative to showcase art on our digital displays for the public to enjoy."
In the past, Lamar has supported the BR Walls Project to help create an outdoor art gallery in downtown Baton Rouge. The company is also among those donating media space for the Art Everywhere campaign coming up this August.