We've had a look at the new Dension CPX-1 Digital Signage Player, as supplied with a three year warranty and three year Signagelive Licence, which looks like it is now in stock at Exertis Micro-P for a pretty good Trade price of GBP 399 (MSRP is GBP 499).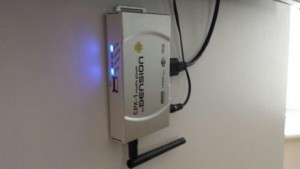 The CPX-1 is a full featured digital signage player running Android, but with features normally only found on a Windows PC. All in a really tiny box – the stubby WiFi aerial is nearly as long as the whole unit.
Key Features we see…
Built for dedicated use with Signagelive
Solid state – no fans or mechanical hard drive
1080p HDMI output
Multi-zone or full-screen support
RSS and Custom Text Ticker
Ethernet and Wi-Fi connectivity
8GB local storage for offline playback
Interrupt (Trigger) support to play content via key-press
720p HDMI video input (non-HDCP), zoned or full-screen
Synchronisation of CPX-1 devices on a LAN (full-screen only)
Comprehensive monitoring and reporting
Dimensions: 120 x 22 x 67mm
Take a look for yourself here.