Adrian J Cotterill, Editor-in-Chief
EYE Corp are most definitely taking the lead when it comes to driving airport media accountability and here we see the completion of its third Eye Tracking study and the first of its kind for UK airports, having launched at Manchester Airport.
The study uses real passengers and measures real-time behaviour in the actual environment – fieldwork, that we were invited to observe, successfully completed last week.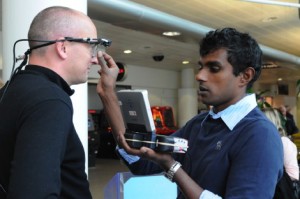 John Rankin, General Manager, EYE UK told us "Media is under more scrutiny than ever before and the Eye Tracking study at Manchester Airport is designed to deliver real, credible results direct from Flyers themselves. The industry will be able to see exactly what our passengers saw as they moved through the airport."
The technology used in the study recorded what a number of real passengers saw as they navigated their way around and interacted with the airport environment – real passengers wore glasses specially fitted with cameras which tracked the actual movements of their eyes.
A recording of what the passengers looked at during their journey was made and will be analysed by Access Testing, an independent technology testing company based in Australia.
Stephanie Gibson, EYE UK Marketing Manager explained "The UK roll-out of the Eye Tracking study will enable us to draw comparisons between our markets, adding to our knowledge of Flyers' behaviour and how they view airport media."
Results will be available mid-June and will illustrate passengers' engagement with airport media by format type and by precinct within the airport.