Adrian J Cotterill, Editor-in-Chief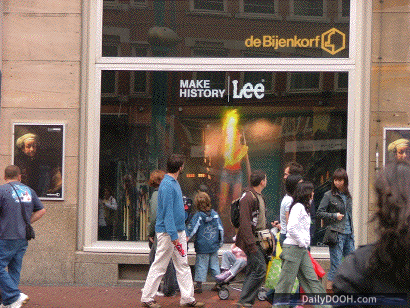 In retail at the moment, Interactive Store Windows are most definitely all the rage. Not a week goes by without us seeing or hearing of another one or having a press release or announcement dropped on our lap. London, Dublin, Rome and now Amsterdam have all been 'invaded' by touch screens, giant screens, vinyl wraps, whispering windows or life size holograms!!!
We liked what we saw from these folks CityScape Media B.V in Amsterdam earlier this week though.
As usual, we encouraged them to stick up video and samples of their work to YouTube so we could share it with you, it's up now and well worth a look.
See www.youtube.com/cityscapemedia
The life size holograms in the shop windows are very cool. We particularly liked the "Battle of the Saxes" – Virtual Candy Dulfer (especially the music).
On a more serious 'branding' note the VirtualShop for NOKIA was very clever – to see a giant phone floating in mid air in a shop window is of course incredibly eye catching!!!
There's a lot of competition in this marketplace (it seems that everyone is offering some form of clever / fancy / interactive window display offering) but these folks have done well in getting in the public eye really quickly.
They have already featured on the TV station RTL and got mentions for their CityTouch offering in media agency CARAT's newsletter 'SCOOP" – it being emphazises that this new upcoming medium might be the answer to rapidly changing consumer behaviour.
Windowgain, Motomedia, Mediazest, Paradigm AV, SensitiveWindow and others in this sector have all done great digital window display stuff.
Mediazest have done life size holographs in windows but only (we believe) when it is dark in the evening or night time (they project on dark foil) what is UNIQUE about Cityscape's Virtualshop as you will see from the picture above is that they can create holograms in daylight.