Schweppes has launched a bold new multi-million-pound marketing campaign which celebrates the Great British public's resilience to enjoy summer – regardless of what it may bring – building on a strong 2020 where the brand led growth in the mixer category [1].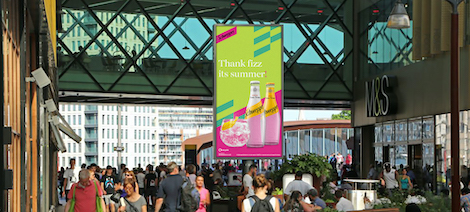 The campaign launches with the return of two 10-second TVCs, celebrating the return of summer social occasions with a light-hearted play on the brand's "we got the tonic, you've got the spirit" tagline.
Eye-catching out-of-home murals will dominate iconic city spaces across Birmingham, London and Manchester while bright and bold DOOH – featuring popular Classic and Slimline variants, along with new editions Pink Soda and Elderflower Tonic – will feature in 11 city centres including Glasgow, Leeds and Liverpool. Motivational DOOH will also appear on London Underground with the aim of raising the nation's spirit following a challenging period.
The campaign will also reach consumers on social media throughout summer, with a Pinterest partnership providing inspiring summer cocktail recipes such as Pink Spritz and Elderflower Fizz.
The campaign comes after Schweppes led growth within the mixer market in retail during 2020 [1], with a value sales growth of 32.4%, to reach its greatest share of market for four years [2]. Schweppes sold nearly double the volume of its competitors in the last retail year [3], cementing its position as the nation's mixer of choice [1] as consumers made the most of social occasions at home.
Ana Amura, Senior Brand Manager for Schweppes, said: "As we continue to build on our new and unique identity, we are seeing both loyal and new consumers enjoy the fresh taste of Schweppes and we're bubbling with excitement at the launch of our new campaign. Schweppes has long been Britain's mixer of choice and is a summertime staple for many consumers. Our light-hearted campaign champions the Great British public's relentless spirit to enjoy the summer months regardless of its unpredictability."
[1] Nielsen Total Coverage (Home) MAT Vol w/e 27.03.21 & CGA (OOH) MAT Vol w/e 27.03.21
[2] Nielsen Total coverage GB excl discounters MAT VAL to 26.12.20
[3] Nielsen Total coverage GB excl discounters MAT VOL to 26.12.20