Cortina Productions, powered by Ultraleap technology, has turned the Aquarium of the Pacific's Whales: Voices in the Sea exhibit touchless, allowing visitors to control the interactive content without touching surfaces or buttons.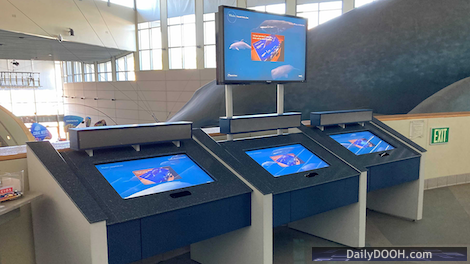 Using Ultraleap's camera module and their TouchFree application, Cortina Productions has been able to retrofit a popular, 10-year-old exhibit and update it for today's audiences. This hygienic solution allows visitors to continue to engage with the interactive exhibit and learn more about our oceans without the need to touch the screen.
Cortina Productions' Principal, Jim Cortina explains, "Since we created these Aquarium of the Pacific experiences over a decade ago, we've had a wonderful working relationship with their team. It's been exciting to work with them again as well as our partners at Ultraleap to bring touchless technology to the Whales: Voices in the Sea exhibit. The speed at which we've been able to implement the touchless software – days as opposed to months – means we can react to visitor needs and provide a variety of interactive options to help people feel comfortable in a museum setting again."
TouchFree provides touchscreen emulation by detecting a user's hand in mid-air, converting it to an on-screen cursor, and supporting an interaction method that users are familiar with. TouchFree is designed to run invisibly on top of existing user interfaces without the need for modifications to interfaces and design. It means minimal downtime for retrofitting, familiar interactions, and the system continues to be easy for visitors to use.
Saurabh Gupta, Director of OOH Product at Ultraleap, told us "What Cortina has done with the Whales: Voices in the Sea exhibit is a perfect example of how well Ultraleap's technology works to quickly retrofit existing experiences and meet the demands of Cortina's customers and their visitors."
Derek Balsillie, director of AV & IT at the Aquarium of the Pacific, said: "The Whales: Voices in the Sea kiosk exhibit is the main place in our Aquarium where you can learn about these magnificent marine mammals and their conservation. It is fantastic that Cortina Productions has been able to modernize the exhibit by making it a touchless experience within such a short period of time."
This is not the first collaboration for Cortina Productions, Ultraleap, and the Aquarium of the Pacific. In 2019, they worked together to bring hand tracking and mid-air haptic technology to The Aquarium's new Honda Pacific Visions Theater, the keystone project of their new Pacific Visions expansion.
Whales: Voices in the Sea is a collaborative project of the Aquarium of the Pacific, Ocean Alliance, Scripps Institute of Oceanography, and Cortina Productions. The exhibit is sponsored by Pacific Life Foundation.
Cortina Productions is a full-service creative media design and production company specializing in the museum field. From multi-user interactives, to large format films, to mixed reality, Cortina Productions stays at the forefront of technology to tell stories in inspiring and innovative ways and provide deeper connections to exhibition content.
Cortina Productions has extensive experience developing personalized visitor experiences, utilizing technology such as RFID and facial recognition to adapt and customize content for unique visitor experiences. They are experts in producing objectively accurate content and have honed their method of taking complex concepts and turning them into compelling experiences for all audiences.
The nonprofit Aquarium of the Pacific is a community gathering place where diverse cultures and the arts are celebrated and where important challenges facing our planet are explored. The Aquarium is dedicated to conserving and building nature and nature's services by building the interactions between and among peoples. Home to more than 12,000 animals, Aquarium exhibits include Pacific Visions, Shark Lagoon, the June Keyes Penguin Habitat, Lorikeet Forest, and the Coral Reefs: Nature's Underwater Cities exhibition. Beyond its animal exhibits, the Aquarium offers educational programs for people of all ages, including lectures by leading scientists, through its Online Academy. The Aquarium offers memberships with unlimited FREE admission for 12 months, VIP Entrance, and other special benefits. Convenient parking is available for $8 with Aquarium validation.