Global, the Media & Entertainment group, has launched its newest premium digital screens 'Heathrow Towers' taking its roadside digital large format estate to one of the biggest in the UK, with over 400 screens.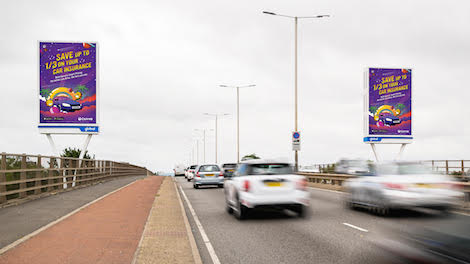 Mike Gordon, Chief Commercial Officer at Global, told us "Millions of motorists travel this route every month so this is a fantastic placement on a major arterial road, capturing commuter traffic as well as travellers to Heathrow. Our new state-of-the-art assets offer advertisers an unmissable opportunity and we're thrilled to have a brilliant line up of partners on board to help us launch the latest addition to Global's growing Outdoor portfolio."
The new sites, which are 22 metres tall, consist of four HD screens, delivering sharp and consistent display quality both day and night, offering advertisers a stand-out creative canvas that will capture affluent audiences heading to and from Heathrow airport on one of London's major roads. Global is continuing to invest in digital screens, which are more energy efficient and its outdoor division has several accreditations, and has won awards, for its commitment to sustainability.
The 'Heathrow Towers' will be added to Global's outdoor inventory available on its digital advertising sales platform, Dax, allowing advertisers to buy data-driven campaigns across digital outdoor and digital audio. Some of the biggest brands in the UK including Visa, Cuvva, Amazon and Sky are advertising on the Heathrow Towers at launch.
Loren Gould, Marketing Director, Cuvva, said: "Cuvva are proud to partner with Global for the launch of the Heathrow Towers. As a challenger brand in the car insurance space we're all about finding the best ways to reach new customers, and running on state of the art, unmissable screens that reach hundreds of thousand motorists is a no brainer."