Amscreen has seen an increase in brands using their screens specifically to target small to medium enterprises, following extensive research demonstrating that their environments are the perfect space to reach this demographic.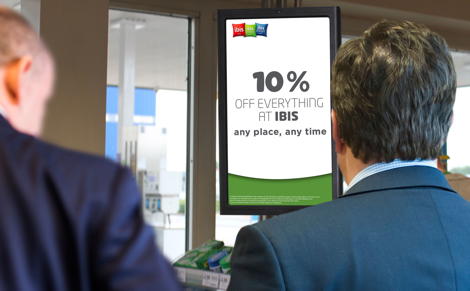 With SMEs on the rise, they have become a key audience for brands such as ibis, PayPal, as well as government bodies including HMRC, all keen to communicate their message to a vast array of businesses that cannot be reached in a traditional manner.
Forecourts have become a pit-stop for many SME workers, with research showing that 87% of them travel outside of London for work on a daily basis, driving at least half an hour each day and stopping at forecourts to check emails, use WiFi and re-fuel. With over 3,500 screens positioned in high footfall locations across the country, the Amscreen network is ideal for reaching this demographic with relevant and effective advertising and many brands have taken advantage of the network to do just this.
ibis has recently run a campaign for its subscription program ibis BUSINESS to promote the 10% discount and advantages of the card in all the ibis, ibis Styles and ibis budget hotels, for businessmen and women, whilst HRMC have used the screens to remind SMEs to submit their tax returns.
Lara Faguais, Advertising & Media Strategy Senior Manager at ibis commented, "Small businesses are a key focus in our current strategy; however, the varied nature of their business means that determining their habits can be a complex task. SMEs are united by one common characteristic – the nation's roads, Amscreen's commuter networks are the ideal platform to share ibis's services to small business owners on the move."
Following extensive audience research and TGI insight revealing that outdoor advertising effectively reaches SMEs, PayPal has also launched a campaign on the network to specifically target local tradesmen and small startups.