Adrian J Cotterill, Editor-in-Chief
I guess if you own an association, said association will sponsor whatever you like, AND talk about plucking a date and a location out of thin air BUT word reaches us that the purveyors of PizzaMarketplace.com, QSRweb.com, VirtualCurrencyToday.com, and ChurchCentral.com among others have decided to put on their own event in Chicago a little over a week after #InfoComm15.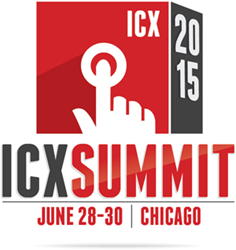 The Interactive Customer Experience (ICX) Summit will be held June 28-30, 2015 in Chicago and will focus on technologies such as digital signage, self-service kiosks, mobile and tablets, as well as emerging technologies like beacons, virtual assistants and augmented reality.
The Summit will be held at the Sofitel Chicago Water Tower, near North Michigan Avenue, the famed "Magnificent Mile" of shopping and dining destinations. The event will begin with tours of interactive customer experience venues, such as flagship retail stores, restaurants, hotels and museums.
Sponsors will display technologies and the program will also include an offsite dinner party on Monday, June 29 on the 99th floor of Willis Tower.
David Drain, senior vice president of events for Networld Media Group said "In today's competitive landscape, it's difficult to stand out. Retailers, brands, restaurants, hotels and other venues are turning to immersive digital technology for their respective audiences to create unforgettable experiences".
Current sponsors of the event include DIRECTV, Omnivex and the Digital Screenmedia Association.
Early bird registration is now open through March 6, 2015 – there is no truth to the rumour that you can pay using Bitcoins, or that if you buy one you get one free, plus a side order of garlic dough balls.