Gail Chiasson, North American Editor
Scala had an increase in business of 27% globally in 2014, helped especially by a 60% increase in the Asia-Pacific region where it picked up, among other new clients, the Japanese Lottery, Tom Nix, Scala CEO, told us in an exclusive interview last Thursday (Jan. 22).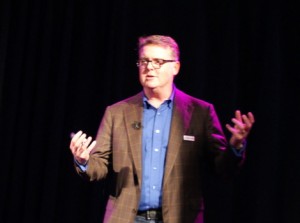 Nix said that Wendy's expansion has also helped the company's growth, along some new work with automotive brands, the names of which he was unable to reveal at this time.
"We're looking towards a healthy year in 2015," he said. "Q1 looks strong. We're doing well in both the US and in South America. We're keeping our eye on the currency fluctuations in Europe. Russia is a softer market at the moment. But in the US, there are positive signs that the economy is improving, and there is a healthier business climate."
Scala moved its office in The Netherlands to Sittard last October, to a larger space with an Experience Centre to serve the EMEA. The US office will move April 1, 2015, to its new office in Malvern, Pennsylvania, about seven miles from Scala's current location in Exton and closer to Philadelphia's airport.
"We'll have double the space, with an open environment – inspired by Bloomberg's head office open environment – and a full Experience Centre," said Nix.
"We're expecting that our new Scala EXP experience, which gained great attention at the National Retail Federation's BIG Show in New York, is going to be very important for us in 2015. This is an extension of our offerings. Whereas our Enterprise product is focused on traditional digital signage applications, EXP is focused on real-time, mobile, web, and device (eg. iBeacons) enablement. Bridging the gap between mobile devices in-store will be important in 2015."
EXP will help deliver dynamic customized experiences. It can interoperate with Enterprise , but the two are sold separately.
"Scala itself will be focused on executing an organic growth strategy," Nix said. "To that end, we've brought 30 new people on board over the last 12-to-18 months, including some industry veterans, and we are looking to hire. We have openings in R&D, in sales, and in sales engineering and we are open to receiving applications from anywhere in the world. We operate in a very entrepreneurial environment."
We noticed in talking with Tom that that's definitely the case. Scala divisions operate in an entrepreneurial fashion, reporting to him, as individual teams. Heading each division are: Damon Crowhurst, EMEA; Dan McAllister, the Americas; Guillaume Proux, Asia; Peter Cherna, who gained the new title of chief product officer this month; Steen Laursen, R&D; and Harry Horn, global marketing.

"We have so many great entrepreneurial leaders," said Nix. "The team has really taken hold. But this was the culture before I came (four-and-a half years ago) and was one of the things that attracted me to the business. There was no reason to change it."
Nix expects to see retail spending in technology to more than double to 7% this year, and with Scala's emphasis on retail, it is the presenting sponsor for the upcoming Retail Evolution Summit being held in San Francisco Feb. 17-19, 2015.
"We are still finalizing our speakers," Nix said. "We've added Laura Davis-Taylor, executive vice-president customer experience, MaxMedia; Jason Carey, vice-president and channel manager, Wells Fargo; Brad Lenz, senior vice-president – design, facilities and store development, Hudson Group; and Manolo Almagro — senior vice-president managing director, digital and retail innovation, TPN."
Nix expects that about 200 people are expected to attend, and the entire agenda and list of speakers should be finalized and released before the end of this week.
This Spring, following its recent exhibit at NRF and in addition to a major presence at the Retail Evolution Summit, Scala will be present at ISE in Amsterdam; DSE in Las Vegas (no exhibit but a conference room plus its solutions may be seen on partners' showings); EuroCIS in Germany; RETAILTECH in Japan; Retail Business Technology Expo in London; Global Shop in Las Vegas; and the National Restaurant Association Show in Chicago.