Gail Chiasson, North American Editor
One of the most interesting talks at the Society for Experiential Graphic Designs' Xlab conference during New York Digital Signage week was by Flavia Sparacino, founder and CEO of Sensing Places, Santa Monica, California.
Sparacino explained how her company got involved and worked with partners to design and build a seven-room, connected executive briefing centre/meeting room complex for Vodafone in Milan, Italy.
Sparacino spoke in the section of Xlab under Transforming Business, and that's exactly what Vodafone's new complex was designed to do. The telecommunications company wanted to entice the B2B market and to show not only its new products in a Discovery Room, but also give potential customers areas where they could be hands-on with the products, see how they would work to meet their particular needs in a Business Solutions Room and conclude their tour in an Action Room where Vodafone could 'seal the deal'. And the rooms had to be ready to target a mixed group: entrepreneurs, small- and medium-sized businesses, large companies, and occasionally, even direct consumers.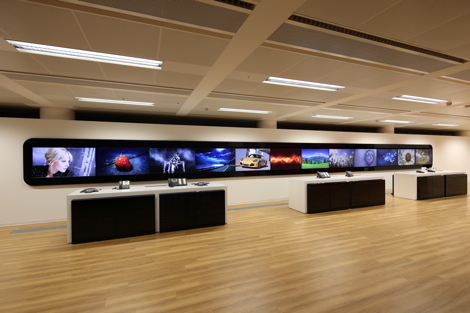 "There were many challenges," said Sparacino. "Vodafone wanted a multi-display approach and wanted to involve all parts of the company and its stakeholders."

Rather than starting with an architect, Sparacino and her company were part of an experiential group, involving everyone from construction, AV, technology and more.
Another challenge was to allow the rooms to be reconfigured for the different user groups. And it was essential to not only build what was needed adjacent to an existing structure, but that the rooms be designed so that there would be a one-way flow of traffic from the Discovery Room all the way to the Action Room.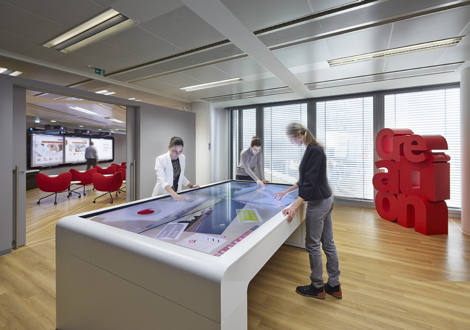 The rooms included Digital Out-of-Home screens, white boards, interactive tables where visitors could design their own products and more.
Sparacino showed concepts, designs and the finished product, which, from the pictures we saw, were beautifully designed in Vodafone's signature red with white and a complete success in terms of Vodafone's requirements.