Gail Chiasson, North American Editor
There's no guarantee that your first job will morph into a field where you'll spend the rest of your life, although, a couple of decades ago, that might have been the case – especially if you loved what you were doing.
Joan Gerberding loved the broadcast industry – especially radio, and she spent 24 years in it, mainly with Nassau Broadcasting, a private, New Jersey-based company with approximately 50 radio stations.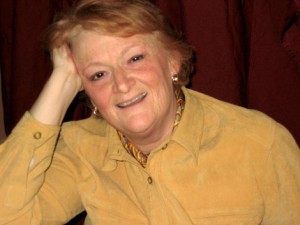 But today, Gerberding is best known for her work in the digital field, for startups, for sales, and for consulting, and it's where she intends to spend a lot more years before retiring – if she ever does.

"Digital signage is the only media seeing double growth," says Gerberding. "The current economy offers a window of opportunity for the digital industry. Those who 'get it' are the ones who'll succeed. They have vision."
Looking back, Gerberding was named the Most Influential Woman in Radio, Broadcaster of the Year, and won a slue of other honours. In her radio career, she met influential politicians and celebrities. Along with Gloria Steinham, Jane Fonda and a group of noted media women, authors and activists, she helped found The Women's Media Centre in New York.
"Yes, I worked towards women getting ahead, but I didn't burn my bra," she says of that feminist era. "Young people today aren't finding the same problems we went through, when women had to work twice as hard as men to get half the pay. But the 'Old Boys Network' still exists, and women still only get about two-thirds the pay."
With such a noteworthy reputation and a bio that sports such appointments as national president of American Women in Radio and Television and about 20 others, what made her move into the digital world?
"I was lucky in that I worked for Nassau, an entrepreneurial company that gave me a lot of freedom," she says. "I had done two startup divisions for Nassau. The first was Jersey RADIO Network, a radio sales division which I grew from US$2 million to US$10 million in three years." (She became president of the national sales network.)
"Then I was asked to start Nassau Media Partners, a digital signage division, integrating digital place-based media into consumer, public and commuter venues. There was little software available at the time and what we needed had to be developed.' (She was again president.)
"Then came a Request for Proposals for signage for the New York-New Jersey Port Authority train stations and, somewhat to our surprise, we won the contract. In 2000, we put signage into the PATH train station from Newark used by 265,000 commuters a day going in to the World Trade Centre." (Along the way, Nassau Media Partners earned a Fast Company 'Honorable Mention' as one of the 'Best New Companies').
Following 9/11, the main way to get to downtown New York from New Jersey was via the New York Waterway, so, only a month after that disaster, she launched the first digital signage emergency communications system for the NY Waterway – the largest privately-held ferry company in the world. It included video walls that carried, in addition to emergency communications, news headlines, ferry schedules and advertising.
'RadioJoan' was off and running down a new career path.
"I saw the trends with new media coming, and knew it was time to get out of the traditional fields," she says. "I had come of age in the '60s and had worked hard on such issues as pay for performance for women and other issues, not as a feminist but as a humanist. My feeling then and now is that if people are good at what they do and have integrity, then there should be fairness and integrity by their employers."
In the digital field, with so many young women as well as men moving into the field with confidence, there's not so much gender-bias, she says. And she has earned her stripes in digital herself since 2001, working in in-store, in-flight, and in-theatre digital, designing media models, finding sponsors, developing revenue-share programs, growing advertising dollars, and consulting.
In 2004, Gerberding joined the fledgling outdoor division of Arbitron, charged with building its staff, services and revenues. Under her guidance, new media initiatives were created, and Arbitron began to offer digital out-of-home research and sales tools to alternative out-of-home companies. In 2005, when Arbitron dedicated the majority of its resources into launching Portable People Meters for radio, the outdoor division was folded into another smaller Arbitron division.
So, in 2005, Gerberding took another fling into the radio world, as director of radio operations for N.Y.-based Access 1, where her responsibilities included designing and implementing strategic growth initiatives for 21 radio stations in New York, New Jersey, Louisiana and Texas. She also developed cross-platform marketing campaign opportunities between radio, Internet, new media and print. Her innovative strategies resulted in an increase of $1.3 million in ad revenue in the first 6 months.
She then left Access 1 in 2006 to consult on the launch of several digital media start-up companies (for some of whom she continues to act as consultant). Among these were Mediamoves, Visual Image Display, Affinity Group, iGotcha Media, and a division of Interep.
In 2008, she joined DMI Music & Media Networks to serve as senior vice-president, creating a new division that delivered customized at-retail, in-theater and in-the-air audio and video programming content. By also developing customized brand messaging and consumer- targeted advertising channels at the retail level, her division generated a new revenue stream and a one-of-a-kind ad revenue-sharing program for the venue clients, while entertaining and informing consumers.
"I've never worked with someone so innovative," says Craig Carman, former senior vice-president of network solutions at DMI, and now president of LegalHeads LLC in Tampa Bay, Florida. "Joan has the remarkable ability to assemble all the pieces, put them together and make something really unique happen."

Gerberding now continues to do consulting (and is open to both more consulting or even a full-time position, she says).
"I like creating media models, and I love working with teams, putting people and strategies in position to move forward," she says. "I'm good, passionate, think on my feet, listen to what people want and try to make it happen. My problem is that I get bored easily. But I've been lucky in my career in that I've been in the right place at the right times."
As a visionary, she gets annoyed at some companies that she says, "have muddied the waters because they didn't know what they were doing. You might have a technical background, but you also need a media and marketing background – or bring people in with these abilities – to be successful.

"Anybody who has a good background in niche marketing or targeted media has a great opportunity in the digital world – man or woman. Women have great empathy, know how to grab people and speak in a short period on time, all to their advantage."
The digital signage field has a bright future if it stays inventive, interactive and integrated with other media, Gerberding says. It has to speed up with more research and analytics, and when advertisers do a test, must be able to prove that it works.
"Digital out-of-home in North America is still not top of mind with many agencies and advertisers," she says. "It's better known now, but we (the industry) must promote ourselves like crazy, as well as integrate with other media. We're getting press, and advertisers are starting to bring knowledgeable people on staff. But now is the time to get into advertisers' and agencies' faces, and to show more ROI and smart research.
"Measurement is in flux. It's important to find a standard that all accept. And we need intelligent content. We must look at the way we approach the content: what kind, and the length of time that we can attract the viewer/listener. I've seen that with radio, where is 30-seconds or less it must create an image. This can be translated into digital media to bring in sales."
Gerberding's ideal job in digital media is with a company that encourages entrepreneurship – ideally where she could spend one-third of her time working from home – in the company of her dog and faithful friend Maggie, a 'doodle' – one-third of the time on the road developing new business, and one-third at the company developing new products.
"I have a good work ethic and a balanced life," she says. "I hate taking time to commute. It's a waste of time."
And if she owned her own digital out-of-home company?
"I'd try to hire the best people for the job, who would be the best match for the team, and who could see my vision and help me implement it. I'm a cheerleader for the digital signage industry!"