Gail Chiasson, North American Editor
New York's MTA Arts & Design has premiered three 10-second video spots offering sneak peeks of a new stop-motion animation by illustrator Chris Sickels on MTA's On the Go kiosks.
The On the Go kiosks are interactive touch-screens that offer wayfinding information, service announcements and customized advertising in select subway stations through the system.
The 'Blowing Bowler', which was commissioned by Arts & Design, depicts a brief history of New York City's subway car designs as a man pursues his wind-tossed bowler hat in a subway station.
As the man follows his hat down a tunnel, a progression of subway cars rolls by representing designs from the Beach Pneumatic Transit Company (1870s), Interborough Rapid Transit Company (1910s), a second generation R-10 car (1940s), a R-15 car (1950s), a car from the 1970s State of the Art Car Program (SOAC), and a more recent R-188 subway car (2013).
The complete minute-long animation, plus three related animated shorts, air at the top of each hour at the Fulton Center station complex, where it plays for two minutes on large-scale 52-channel video installation ranging from 55-inch LCD monitors to street-level LED walls measuring 31.5 feet by 18.9 feet. The animation first debuted in December, 2015, and will be on display until summer 2016.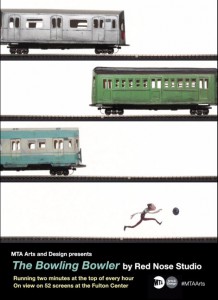 The three 10-second promotional videos play on 169 On the Go kiosks at 31 subway stations in the Bronx, Brooklyn, Manhattan and Queens. Also commissioned by Arts & Design, these promotional short films expand the audience by presenting new, innovative work to MTA customers and point them to Fulton Center where they can see the digital artwork in full.
Sickels, who is also known as Red Nose Studio, was inspired by the New York subway system and the continuous movement of MTA customers.
He created a dioramic model from wood, clay, fabric, wire, cardboard and found objects, then painstakingly filmed each motion as a frame of the film.
'Blowing Bowler' is presented by MTA Arts & Design with technical support from the MTA Multimedia and Marketing team, Westfield Properties and ANC Sports.
The MTA expects to install 180 On the Go kiosks at 40 additional stations throughout the transit system. The 6' tall, stainless steel kiosks have 47" interactive screens that provide subway customers with information about their complete trip, from planning and service status to information about nearby destinations. The kiosks place an unprecedented amount of transit information at customers' fingertips while they are in the system. In addition to customers pulling information, New York City Transit can push granular service advisory messages to network screens. Each kiosk – whether hard wired to the NYC Transit network or part of a secure wireless network – is individually addressable and can be customized by geography.
Chris Sickels is the creative force behind Red Nose Studio. His three-dimensional illustrations are based on sets and puppets made from materials including wire, fabric, cardboard, wood, miniatures and found objects. Red Nose Studio's illustrations have appeared in magazines, books, newspapers, advertisements, animations and character development projects. He wrote and illustrated 'The Look Book', and illustrated the children's books 'Here Comes The Garbage Barge!', 'The Beginner's Guide to Running Away From Home', and 'The Secret Subway'- the story of Alfred Ely Beach's pneumatic subway (released on March 9, 2016). His recent animated short, 'Creosote', won a silver medal from The Society of Illustrators 58, and was screened at film festivals such as Future Film Festival, LIAF 2015: Late Night Bizarre, and GIRAF 2015 Indie Animation Mixtape Side B.
MTA Arts & Design encourages the use of mass transit in the metropolitan New York area by providing visual and performing arts in the transit environment. In November, 2014, Arts & Design launched an award-winning digital arts program that features works of contemporary new media artists throughout MTA's digital media network. Its Percent for Art program is one of the largest and most diverse collections of site-specific public art in the world, with more than 266 works by world-famous, mid-career and emerging artists. Arts & Design produces photography installations as well as graphic arts and live musical performances in stations, and the Poetry in Motion program in collaboration with the Poetry Society of America. It serves more than 8 million people who ride MTA subways and commuter trains daily and strives to create meaningful connections between sites, neighborhoods, and people.