Gail Chiasson, North American Editor
Between 11 a.m. and 3 p.m. Wednesday and Thursday, March 16 and 17, attendees at #dse2016 will be able to attend a great number of free on-the-floor half-hour talks by experts in their fields.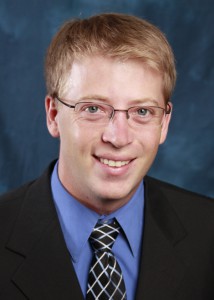 Last week, we spoke to one of these experts, Jeff Everson, an applications engineer at Daktronics, at his Brookings, South Dakota, office. Everson will be giving his talk on Creativity in LED Video Design at 12:30 p.m. Wednesday, March 16.
With companies constantly bringing out new innovations in digital products in terms of size, shape and transparency, we asked Everson what Daktronics was doing in terms of innovation.
"We are constantly working on design challenges," said Everson. "We want clients to learn what LED is capable of, tell us what they want and then we customize according to their preference. We are constantly focused on LED projects, how we can take technology farther, show incredible movement, go past environmental challenges and come up with even more than what was envisioned.
"Some of the things we've done have involved 30,000 sq. ft. of high technology. We've done the Morgan Stanley and the JPMorgan Chase displays at Times Square. We've done the Fashion Show Mall and the SLS Casino in Las Vegas, each one of which is different."
Everson said that what is often overlooked when people are planning their signage is the content strategy that is needed for real customer engagement.
"We worked with Brian Henry Design of Las Vegas and with Show+Tell, New York, getting real engagement at Fashion Show Mall with such things as the Selfie Sparklight.
"It's innovation like this that offers a truly great experience. And the more we see, the better designs that are done well, it raises the bar for everybody."
Everson said that Daktronics offers a holistic approach.
"Collaboration is key," he said. "If you have experts all handling a slice of the project, you can develop something really great. But some companies want to sell without involving an expert for some aspects."
Everson said that in terms of LED screens, it's important that the screen itself should correlate with the content strategy. They should match. That's what was done with the Morgan Stanley screen.
"People respond to the type," he said. "The content was designed for the specific screen. It has a bold, creative, architectural look and feel. When you bring in content creators that can really engage, they can look and create according the shape of the screen."
Everson said that to make a project work, the ownership has to be a visionary and buy into a vision to make the project go. He said that is what happened with Penn National Gaming (Hollywood Casinos). The team worked together and the owner embraced digital signage in many forms. It used large format LED-wrapped columns and more, with a main centerpiece of each of the nine properties custom designed with a similar theme for the specific individual properties.