Gail Chiasson, North American Editor
Peerless AV had what was probably the biggest booth at #dse2016, but we first met Brian McClimans, CEO, and Beth Keuling, the company's public relations specialist, in a private meeting room in the back of the trade show hall, where we first discussed the company's name.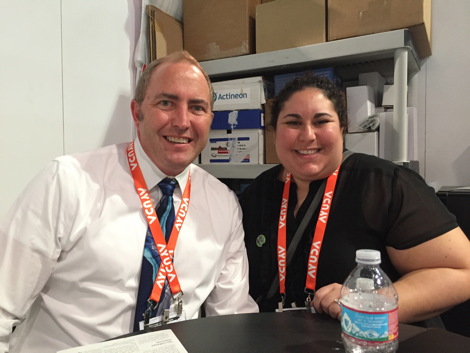 "While Peerless AV originally meant Peerless Audio Visual, today you can say that it can stand for Peerless Always Versatile," said McClimans. "We solve problems, problems for companies worldwide, whether it be is the EMEA or closer to home in Mexico."
Peerless is actually based in Aurora, Illinois, and offers a wide selection of solutions from TV mounts, outdoor TVs, kiosks, wireless audio systems and digital signage systems. But what intrigued me on the Peerless booth when we went to look at it versatile solutions was the new electric charging stations for cars.
About the height of a normal gas pump, the electric charging stations carry back-to-back digital out-of-home signs. However, they are branded Volta, the company that buys the branded solution from Peerless.
Peerless also was showing for the first time in the US – although already seen at #ISE2016 – its popout LED walls that close up to 8" from the wall.
And among its other showings was a new video wall mount for LCDs with lateral adjustment knobs for perfect alignment; curved portrait kiosks for up to 55" displays (or larger on custom order); and a Peeress four-sided cube kiosk with 86" stretch display.
Yes, maybe not officially, but always versatile!