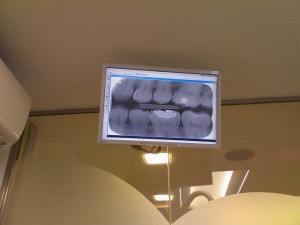 Here is a nice small install in La Coruña, Spain in 'Clinica Dental Piferrer' (a Dental Clinic).
The digital system seems to interface nicely with the dental application – yes, that is a person's teeth shown on the screen in the picture to the right!
Playback of looped 'relaxing' content is paused when the Doctor needs to use the screen to view patient information, then continues as soon as it is finished.
The quality of the image is quite good as they are using pure HD content with Eizo clinical monitors. There is no advertising (which seems to make sense) – it's just pure 'relaxing' content.
We don't know who is behind the network.