Adrian J Cotterill, Editor-in-Chief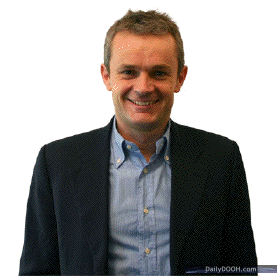 This month in the "CEO Spotlight", we welcome Simon Rees, Avanti Screenmedia, London who has answered 10 questions that were put to him.
What importance do you place on your website as a means of showing a professional image and attracting new business? Do you feel that customers can quickly find the information they are looking for on the site?

Following the de-merger last year, the existing website was set up as a short term interim measure to communicate our service offering and provide details of our networks.

These days your website is the first port of call for new customers to 'check you out' and existing customers, to keep up to date – it's a vital part of business communications strategy. For public companies it also fulfills the role of providing existing and potential investors with information.

How the website is used by customers now and in the future is being researched as part of our ongoing strategy review. Clearly the website, and all marketing and pr activity, will be key tools for communicating with stakeholders, building our profile and attracting new business.

Avanti hopes to have our new website, incorporating these insights, up and running soon.

What are the key technological advances you see being relevant to the business in the next year or two?

One of the pillars for the future of our business is the early adoption of appropriate technology and distribution software to create value for our clients and their customers.

It's also part of our competitive advantage so you can't expect me to give too much away!

Our ability to draw on a vast range of technological innovations through in-house development and strategic partnerships is vital for our growth in the future

However the key to our channel's future success as a marketing solutions company is dynamic and engaging content. Our networks are becoming ever more sophisticated as we meet the demands of an increasingly demanding consumer audience. But technology is nothing without the ability and understanding to apply it, and Avanti has the required expertise to maximise all the elements of our proposition.

Do you keep tabs on your market share and if so, what is it at present and where do you expect it to be in 12 months time?

We're clearly number one in shopping centres, dominant in Pubs and Bars and I guess, we are all trying to crack the wider retail market. As part of our strategy for growth in Retail, we are looking beyond the UK in this sector.

Our overwhelming operational priority is delivering value for our clients and 'cut through' for advertisers. Market share will follow as we create commercially relevant channels.

As a company dealing in media, marketing and promotion, you have in the past been criticised about lack of communication and good PR, do you have any plans to address this in the near future?

Avanti has been hiding its light under a bushel, so guilty as charged!

Clearly the de-merger and funding issues made it inevitable that much of our focus has been financially orientated. However, in parallel with this, our time and attention has been on building a solid foundation from which to grow. The company has been reshaped and a new business model has been created which we are now drip-feeding into the market

My approach has always been to deliver before shouting about it…. put this down to a sporting background!

It seems to many that your business took the brunt of the de-merger costs from Avanti Communications; if you think this is a fair assessment how long do you expect it will take to make good the losses?

The cash costs of the demerger to Avanti were about £500k. However, we also wrote off some £25 million of earlier investment so it's fair to say that the de-merger involved significant financial burdens.

But the growth we expect in the UK digital sector, which has yet to catch up with many international markets, should enable us to overcome the short term losses over the next three years.

I can also say that our re-engineering of the business and alignment behind a new vision has been steadily delivering sales and securing a platform for future growth

How can Avanti drive digital out of home sector forwards?

Avanti has always felt that the sector has been held back by the assumption that DOOH is just about moving posters. To be fully effective it has to engage consumers and be useful to them.

From our own perspective we have suffered by being thought of as just a supplier of screens, but screens are simply hardware. What we should be thought of as is the creator of content and messaging that drives sales at or near the point of purchase.

What vision do you have for the business and where would you see it being in 12 months time?

Our vision is to establish ourselves as the brand that is synonymous with the creation of leading edge, interactive digital visual solutions in out of home retail environments

Our content-led offering will bring this vision to life for the end consumer and in so doing create a medium that delivers value for our client partners and is viewed as an essential part of the media portfolio for advertisers.

We have already started this journey and I expect to be a considerable way down the road in achieving our commercial objectives 12 months from now.

Avanti certainly doesn't intend to be hanging around as a £2 million market cap business in a year's time!

This year, many are saying that some companies will either have to join forces or merge in order to consolidate their positions in this sector, what is your view on this?

Consolidation and rationalization are inevitable at some stage. However, I believe that a focused and concentrated approach on our part is vital at this stage of a developing sector, rather than a really broad offer poorly executed.

As part of our strategy we have developed a number of strategic partnerships that are allowing us to compete as best in class in all key disciplines ranging from technology to content creation. At some stage we can expand the company on the basis of this.

Are brands engaging with your proposition?

Locally yes, and beginning to at a national level. Media agencies and brands have been slow to embrace out of home screen media, I guess nobody ever got sacked for using ITV!

However in our Mall business we have a captive audience, within an environment where the mindset is to enjoy, have a look around and shop! Creating a dialogue with this audience to date has been an inexact science and I would agree that creative execution has historically been patchy in this sector, but we are about to change all that, with some pretty significant up front investment both in technology and content creation.

I'm very excited about this, but I need the planning and buying community to be bold and engage. I remember convincing the then marketing director at Cadbury to be brave and capture his audience through a uniquely engaging single vehicle, 'Coronation Street', in 1996. He diverted half of his marketing spend into the sponsorship, the relationship blossomed, and lasted for a very successful eight years! This is an equally massive opportunity, there to be exploited.

If there is one thing you could change or now think you should have changed when you first joined the company what is it?

On the business side I really think we've done the right things. I've been in the driving seat for 8 months and big change takes time. I'm looking forward to the next 18 months.

Personally ? Take a holiday before I joined! I haven't had one yet.
We would like to thank the forum users of both advfn and interactive investor in putting together this month's "CEO Spotlight" – especially David Buckley, aka BRONKING without whose help this month's post would not have been possible.