Adrian J Cotterill, Editor-in-Chief
EYE Corporation today launched a creative posting service for EYE's digital assets in airports, shopping centres and universities called Accelerate which allows advertisers to submit creative changes for immediate upload.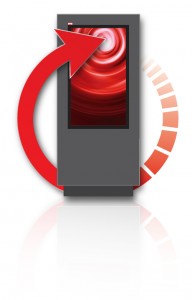 It's designed to eradicate lead times for digital creative changes and has been developed, with new production guidelines, which will be delivered to clients across Australia and New Zealand.
The result of this, we are told, is that clients can change their message up to several times daily or book a campaign and have their message up that day.
General Manager EYE Sales ANZ – Tony Kenna told us "With Accelerate our airports, shopping centres and universities are offering more immediacy and flexibility than the majority of other media suppliers can offer. In today's short-term market, we continually aim to develop advertisers' knowledge and belief in OOH as a fast turnaround medium. This innovation, simple in its execution, is our latest response to market needs."
No information on what technology is behind it, what it plugs into – though we assume it plugs into the Ryarc Media Systems that EYE use.