Adrian J Cotterill, Editor-in-Chief
Smartsign, one of our favourite Scandinavian digital signage software vendors is now also investing in content production.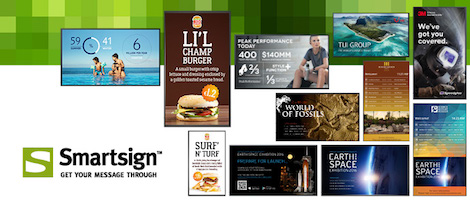 Jennie Fredriksson, Marketing Manager at Smartsign told us "We have noticed an increased demand for content and we are really happy to now be able to complement our software with solutions within 3D, video, powerpoint, animations, commercials and a range of other areas. This also means good business for our resellers, as they can offer packages with hardware, software and content".
Many clients that choose screens and Smartsign's software for digital signage also need to fill their screens and other platforms with content. They obviously want to support this increasing demand an tell us that it is about everything from tailored texts to videos, powerpoint presentations, photo- and picture creation to graphic design.
Martin Romanowski, CEO, Smartsign said "By offering content production we get a further quality assurance for our already well established software for digital signage".
Smartsign was founded in 1998. The Swedish company has its head quarter in Dalarna and another office in Kista, Stockholm. Thousands of companies from all over the world use Smartsign's comprehensive platform for digital signage to manage and publish unique and adapted information. On all units – regardless which platform.