In an evolution of its wider Snapchat initiative, KFC UK and Ireland is bringing its Colonel 'Selfie' Snapchat filter to the high street.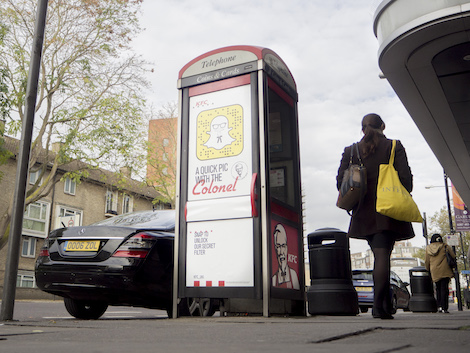 Snapchat's snap to unlock feature will appear in an OOH advertising campaign planned and executed by Blue449 and Posterscope, with creative by BBH.
The campaign, running on UK phone box ad sites which are in close proximity to KFC restaurants, will allow Snapchatters to unlock a unique filter to take a selfie with the Colonel throughout November.
Joshua Benge, KFC Social Media Manager told us "Our younger fan base spend a huge amount of their media time on their mobile devices when they are outdoors so we looked to combine the two. This is a fun and engaging way for us to extend our previous in-store Snapchat campaign. By unlocking the secret filter, people can have fun with the Colonel and share the moment with their friends."
The creative treatment makes an analogue ad format digital and a static poster interactive, and is the first time the snap to unlock feature has been used on OOH sites in the UK.