Daktronics (NASDAQ-DAKT) will showcase its latest developments in LED display technology at #ISE2017, Hall 8  stand N263.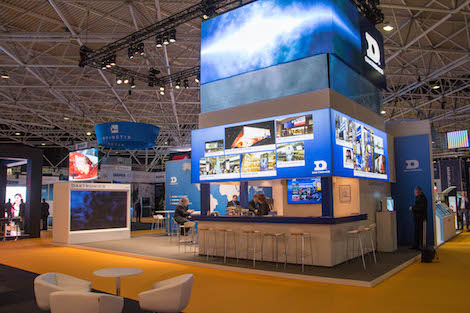 The 70-square-metre stand will feature ultra-high definition (UHD) displays with Daktronics controllers that allow for smooth HDR and 4K content transmission. Visitors will also see various architectural design elements and an array of traditional 4-millimeter indoor products.
Pete Egart, Daktronics VP of EMEA told us "This year, in addition to an extensive product showing, we will showcase some of the unique benefits available to Daktronics customers including: display versatility, highest image quality and durability."
Using Daktronics' proprietary control equipment, screen owners can take full advantage of the HDR colour space. The company's UHD product line uses Daktronics Precision Current Control (PCC) to control the differing power needs of each LED die.
Pete Egart explained "This technology allows us to create stunning visual displays that outperform the competition throughout the life of the display. It consumes significantly less power and requires fewer service calls. All of this adds up to a faster return on investment and a more impactful experience for our customer's audience."
The company's stand will present some of Daktronics' iconic worldwide installations and demonstrate how multiple LED technologies can be used together to create unique experiences.
A new rendering of 'forced perspective' will crown Daktronics stand. The technique, pioneered by Daktronics at SLS Casino in Las Vegas in 2014, creates an illusion that turns a two-dimensional canvas into a three-dimensional experience which must be seen to be believed.
Daktronics has attended ISE for the past 13 years, dating back to the first 2004 trade show held in Switzerland.