Germany's second largest bank have launched an innovative dynamic digital campaign across Heathrow Terminal 5's gateroom digital network, targeting passengers flying to Germany.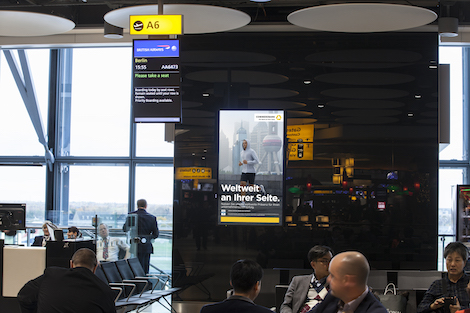 Commerzbank will be the first advertiser to utilise the Gateroom network's dynamic capabilities to run tailored content to a targeted audience group at specific times throughout their campaign. By utilising Heathrow API data, JCDecaux's SmartContent system will identify the specific gaterooms flying to the following German destinations; Berlin, Dusseldorf, Frankfurt, Hamburg, Hanover, Munich and Stuttgart.
Once announced as open, Commerzbank's advert will be displayed in German in the relevant gaterooms while the others remain in English, ensuring only a specific German audience is targeted with the personalised message.
This is a simple but effective way for Commerzbank to capture the attention of their audience and stand out from the competitive clutter. When an advert is displayed in the native language of the passenger, they are more likely to notice the ad, engage with the message and have a more favourable perception of the brand serving it. Personalised content is proven to engage with audiences on a deeper level, through increased perception, awareness and memorability.
Steve Cox, Marketing Director, JCDecaux Airport told us "We're delighted that Commerzbank have chosen to utilise the unique dynamic capabilities of Heathrow's digital network. Gaterooms are a fantastic place for brands to effectively engage their audience due to the high dwell time and receptive mindset of the passengers. We hope to see more brands follow in the footsteps of Commerzbank and amplify their digital campaigns through the use of live data."
The dynamic campaign will run for two weeks and was booked through JCDecaux Airport by Dentsu Aegis.