ONELAN has further extended its global reach for its leading Reserva Room Signage solution with versions now available in 13 different languages including Chinese, Japanese, Arabic, Russian and other key European languages.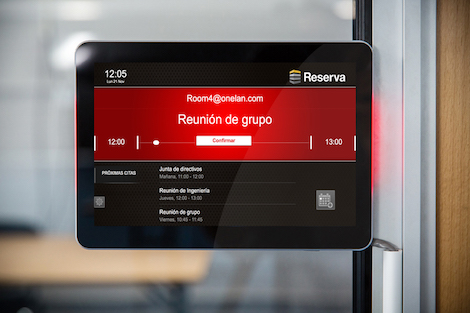 Additional language functionality is not only useful for international companies, but also for large corporations or universities who may have a large multilingual contingent, regardless of where they are based. This flexibility means they can communicate important room allocation information in more than one language.
Reserva also extends its support for various calendar systems with the addition of Google Calendar and G Suite (formerly Google Apps for Work) connectors. This likely gives Reserva, unrivalled integration with the leading systems used in Corporates and Universities.
Further functionality enhancements enable organisations to control the theme and branding of the signage solution, offering an additional internal channel for brand reinforcement.
Simon Carp, Senior Product Manager told us "These enhancements further cement Reserva's position as one of the leading room booking signage solutions. The features are immediately accessible to all existing and new customers, and can be implemented within an organisation, wherever they are based."
Since launching in 2015, Reserva has been installed globally within the education, corporate and hospitality industries, helping to improve booking efficiencies for end users and room occupancy management for facilities managers.
Unlike other similar solutions which have no other functionality, Reserva room signs can be used in combination with ONELAN's Content Management System (CMS) to show other messaging on screen. The Reserva portfolio also includes content to bring information about meetings to large format digital signage.
Reserva has recently been nominated for a 2017 InAVation award with winners announced on Tuesday February 7, 2017 at #ISE2017. Voting is now open and can be found here.