JCDecaux Airport this week introduced Heathrow's latest large format digital opportunity, with world-leading ICT solutions provider Huawei as launch partner.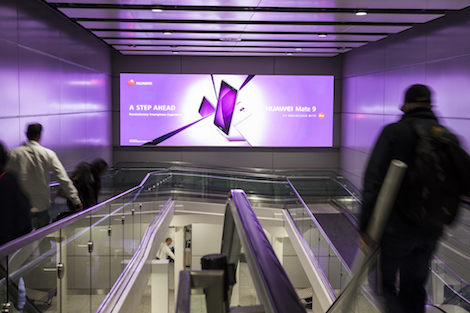 It's Terminal 3's first large format interior digital site and gives Huawei the opportunity to reach and influence 8.8 million arriving passengers each year.
The Motion Showcase consists of two 6.9 x 2.3 meter full motion digital screens situated head-on to passengers as they make their way into baggage reclaim.
The installation of this premium DOOH site is a continuation of London Heathrow and JCDecaux Airport's digital transformation, following on from the successful launch of the iconic Heathrow Gateway and T5 Motion Showcase earlier in 2016.
We believe that 2017 will see JCDecaux Airport's digital portfolio expand even further, with the installation of Taxi Rank iVisions, a Business Lounge iVision network and other new large format digital opportunities.
This campaign was planned and booked by JCDecaux One World through JCDecaux Airport.