Adrian J Cotterill, Editor-in-Chief
RightHand Robotics, Inc., which sounds like it should be, or was, involved in The Big Bang Theory 'The Robotic Manipulation' (2010) was the star of the #NRF17 Innovation Lab.
Earlier this month, RightHand Robotics, Inc. unveiled RightKit — its first, in a series of auto-pick robotic systems picking individual items for e-commerce order fulfillment.
RightKit is a totally automated solution providing customized kits of product samples. Unlike traditional factory robots, the RightKit system can handle thousands of items without reconfiguration, and can pick individual items from cases, totes, and other unstructured bulk inventory storage. The underlying technology that enables this level of flexibility is the is the proprietary RightHand Robotics GraspIntelligence software that plans and executes grasps from 3D vision. The system can handle variety of item categories including health and beauty products, electronics, pharmaceuticals, and grocery.
Watching it in action, it is incredibly impressive and a marvel of engineering.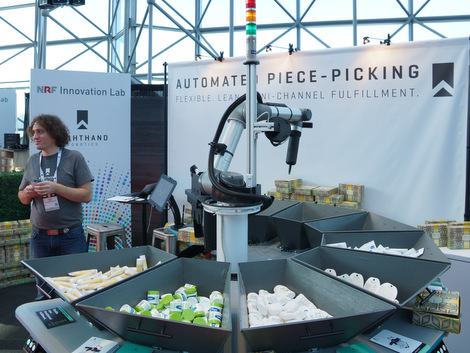 The RightKit workcell is easy to trial/demo on-site without expensive integration. It is mounted on a standard pallet base that can be easily moved, and uses human-safe collaborative arms. Such nimble automation can then be scaled to meet demand within and across warehouses. Multiple systems can be deployed in parallel to increase the throughput or increase the number of SKUs. RightKit can also be seamlessly integrated with other automation solutions, such as an auto-bagger commonly used for packaging apparel shipments.
RightHand Robotics was founded in 2014 to enable lean supply chain by automating the order fulfillment process. The company is a spin-off from Harvard with a team of MIT engineers and seasoned industry veterans following a top-ranking performance in the DARPA Autonomous Robotic Manipulation competition.