Smartsign AB have announced that the new Philips D-Line series of professional displays have an integrated Android player which their software, Smartsign Display Manager.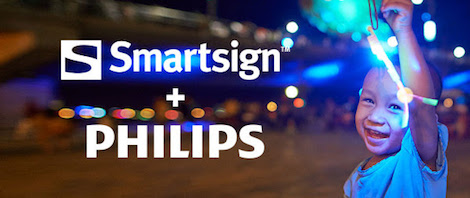 Franck Racapé, EMEA Commercial Director, Philips Professional Display Solutions told us "We are pleased to announce our compatibility with Smartsign Display Manager. With our Android powered D-Line displays, we are able to merge high-end hardware and software solutions, giving customers an all-in-one package. This compatibility with Smartsign is another example of the power of the Android ecosystem within Philips Professional Display Solutions."
Martin Romanowski, CEO, Smartsign told us "Smartsign's software has supported Android for many years. Our software already works with external Android players so it was quite easy to make it work. We have now tested Philips new Android displays and it works perfectly."
Philips Professional Display will demonstrate this integration at #ISE2017.
Franck Racapé added "We announced last year that we will focus on changing the Signage industry landscape by bringing the most popular and developed Operating System running on high performance Signage displays. One year later, we are looking forward to showcase the unlimited potential of our Philips range to the industry professionals and we are delighted to do so with partners like Smartsign."
Smartsign was founded in 1998. The Swedish company has its headquarters in Dalarna and another office in Kista, Stockholm. Thousands of companies from all over the world use Smartsign's comprehensive platform for digital signage to manage and publish unique and adapted information.