Manolo Almagro, Weekly Columnist
This year's #Euroshop trade show marked it's 50th year of existence. Unlike previous years, the 2017 show format was "rebooted" to address the significant changes retail has undergone in the past five years.
Yes, in an effort to address the new challenges of retailers, #Euroshop created seven new "experience dimensions": POP Marketing, Expo & Event Marketing, Retail Technology, Lighting, Visual Merchandising, Shop Fitting & Store Design and Food Tech & Energy Management.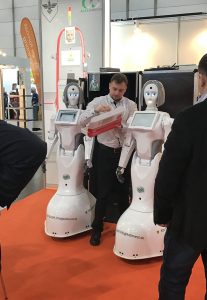 The underlying theme across all dimensions of the show was: digital (and mobile) at retail is no-longer an afterthought, it's at the core and will be built in at every facet of what it takes to create a store from the ground up all the way through enabling and operating the future types of multi-sensory experiences.
Retailers will need to adopt this approach in order to stay relevant and survive.
Retail tech trends from #Euroshop illustrate that the technology has evolved to meet new market demands – platforms are aimed at the delivery of digital experiences into the physical retail space on parity with Amazon's approach of making shopping experiences convenient, efficient and easy to navigate!
In addition to customer facing solutions, these tools automate store operations and logistical services.
The key trends were technologies that speed up the check out experience and make it easy to shop.
New platforms have arrived for retailers to "Roll their own" AmazonGO store type of experience. ITAB demonstrated their "Airflow" solution that bears a striking resemblance to Amazon's GO concept store. "Click + Collect" turn-key platforms offered retailers a way to provide Amazon like self-serve, remote locker pick up solutions like this innovative start company Emma's Box who created refrigerated food storage lockers for grocery retailers.
The Think + Go transactional digital signage platform made its debut a year ago and it continues to gain traction in the EU market due to the recent acquisition by Ingenico. To date it is the only digital signage solution that meets today's customer expectations for seamless, frictionless engagement when it comes to mobile commerce integration with digital signage. No apps to download, no special QRcodes – Just tap your NFC enable phone or loyalty card against the items on the screen and you've made a purchase.
Aside from the enterprise solutions showcased at Euroshop, the continued proliferation of AI powered, connected sensors and cameras (IoT of retail) continues to grow. The rise of "smart store" has given way to a new generation of sophisticated autonomous robots that a capable of customer service, security and operational support as shown by Metralab's retail focused TORY robot which takes a slightly different approach than Softbank's Pepper Robot currently testing in some retail markets in the US and Asia. This leads me to believe this trend has merit and that it may be much more than just a gimmick to get people to come to the store.
To those predicting the demise of physical retail, it may be premature – Amazon knows physical stores are a necessity in order to compete, which is why they continue to build out their concept stores. #Euroshop highlights how the retail industry is taking a page out of Amazon's playbook and using in the on-going battle for the customer.