Gail Chiasson, North American Editor
Cisco Canada and the Major League Baseball's Toronto Blue Jays have entered phase two of deployment of Cisco StadiumVision to provide new and innovative experiences for fans in select luxury suites and the JaysShop at Rogers Centre, Toronto.
Rogers Centre is the third professional baseball stadium being equipped with Cisco technology. The new Yankees Stadium, home to the New York Yankees, was equipped with Cisco StadiumVision prior to its April opening by Cisco, as was Kauffman Stadium, home of the Kansas City Royals.
Rogers Centre is being transformed by Cisco in three stages, beginning last year. The new scalable Cisco Connected Sports solution will be central to the fan experience at the Rogers Centre. The Toronto Blue Jays have integrated video, voice, data and wireless services into one seamless next-generation network that transcends sports operations, connecting the team to its fans in new ways. Fans will be able to view sports news and scores, weather and traffic while never missing a moment of game action on the field.
"The Blue Jays organization is committed to providing fans with the best possible game-day experience," says Wilna Behr, vice-president, stadium initiatives, Toronto Blue Jays. "We were the first major league sports franchise to pilot Cisco StadiumVision technology last season, in a small controlled location to the delight of our guests who were able to participate in the pilot."
Cisco will work with the Toronto Blue Jays to enhance the way fans enjoy Blue Jays games and other events by making the experience more interactive, personalized and immersive. Cisco StadiumVision will allow the Blue Jays to cost-effectively deliver live game video and customized content to video monitors in the stadium, addressing the unique needs of each game or event. The technology will also be available for other events at Rogers Centre, including the Bills Toronto Series NFL games
Last year, live game broadcast was delivered on HD video monitors displayed at three gate TVs and eight TVs in the JaysShop. The monitors also supplied up-to-date sports scores, Jays trivia, news and weather, and, after the games, directed fans to the nearest exits and provide up-to-the-moment traffic information. In the event of an emergency, all stadium monitors could be immediately and uniformly mobilized to display evacuation instructions.
As well, 22 luxury suites were outfitted with 25 HD flat-screen TVs that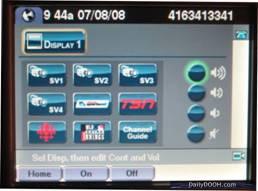 use touch-screen Cisco Unified IP Phones. (One large suite has 2 phones and 3 screens.) Touching an icon on a phone screen allows the user to view different camera angles and views, including camera views from the Jays' and the visiting team's bullpens.
This year, in phase 2, 10-15 additional suites are being equipped with Cisco StadiumVision technology and point-of-sale integration, which will allow fans to order merchandise right to their suites. In addition to select HD channels, Super Sports Pak and MLB Extra Innings (Rogers' sports packages) will be made available in StadiumVision-equipped suites.
Phase 3, in 2010, will include the addition of Cisco StadiumVision to more suites and the HSBC Club VIP. The Blue Jays and Rogers Communications are also working together to develop next-generation fan experiences to take advantage of the unique relationship between the two organizations. For example, new technology features in the stadium are designed to support future fan use of mobile devices for ordering concessions from their seat, viewing instant replays or chatting in real time with friends inside and outside the stadium.
"With this deployment, the Toronto Blue Jays are clearly demonstrating that you don't need to be a new stadium to use the power of the network to provide innovative technology and new experiences to your fans and customers," says Nitin Kawale, president of Cisco Canada.
The initial success of a Toronto Blue Jays pilot program in 2008 led to the full scale deployment of StadiumVision technology at Yankee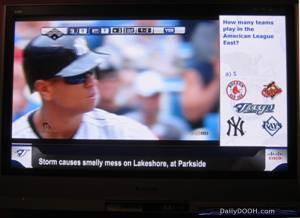 Stadium and Kauffman Stadium in Kansas City. The Yankee Stadium solution is on a large scale, with end to end IP deployment, and some additional linkages to the point of sale (food, merchandise) via the IP phone interface. In addition, at Yankee Stadium, WiFi access is available for all game attendees.
The Kansas City Royals have deployed Cisco StadiumVision through a project with AT&T, in order to enhance the fan experience, create operational efficiencies and gain the flexibility to transform the venue allowing for the creation of new revenue streams. With more than 400 TV monitors from four different vendors throughout Kauffman Stadium displaying HD video on all channels, fans never have to miss a moment of action on the field.
On monitors in the Kauffman Stadium luxury suites, fans are able to control their own viewing experience by selecting their favorite channels from a custom lineup that includes a stats channel, so fans can track real-time pitch counts and speed, batting lineups, and game hitting percentages.
Further, the entire venue can essentially become a marketing platform, as targeted advertisements and promotions and banner or ticker ads along with full-screen digital ads can be linked to fan demographics or specific moments during the game. Kauffman Stadium can customize advertising content in its premium luxury boxes to meet the specific needs of the suite owner and guests.
At Yankee Stadium, StadiumVision allows the Yankees to cost-effectively deliver live game video and customized content to each video monitor, addressing the unique needs of each stadium location at each game or event. All monitors are capable of delivering content in HD video throughout the stadium, including concession areas, the Great Hall, the Yankees Museum and other in-stadium restaurant and bar locations. On non-game days, these same monitors can be used to display customized content and information for special events such as conferences, weddings and other group activities.
At the end of phase three, Rogers Centre is expected to offer most, if not all, of the offerings of the fully deployed Yankees' and Kauffman stadiums. Or perhaps, more.