Adrian J Cotterill, Editor-in-Chief
Spatial View a developer of glasses-free (autostereoscopic) 3D displays for our digital out of home space told us this week of a partnership with T-Mobile Czech Republic to pilot a number of 42 inch 3D display screens in two Prague retail locations.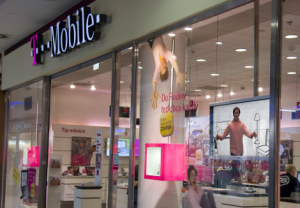 The screens will feature original 3D content of course but interestingly this includes ads produced by global ad agency Saatchi & Saatchi using Spatial View's content creation tool set.
The goal of the project is not surprisingly to help drive foot traffic into stores and increase sales using the latest in eye catching 3D digital signage technology.
T-Mobile Czech Republic will start by placing one Spatial View 46″ display in each of their two most popular stores in Prague, located at Novy Smichov Shopping Center and Galerie Fenix. Content will be powered by Spatial View's Power Player 3.0.
Lucia Tarbajovská, Vice President Marketing Communication, T-Mobile Czech Republic told us "I was greatly impressed upon first seeing Spatial View's glasses-free 3D screens and recognized that there was an opportunity to use them within our retail locations. We are proud to be the first Telecom retailer in Europe to utilize Spatial View's autostereoscopic 3D screen technology."
About Spatial View Inc.

Spatial View Inc. (SVI) is a pioneer in 3D image processing and autostereoscopic displays. Headquartered in Toronto, Canada, Spatial View has offices in San Francisco, Hong Kong and Dresden. With the registered consumer brand Wazabee, the international team develops products that transcend the boundaries of 2D imaging, opening new dimensions and interactive solutions in medicine, engineering, advertising, gaming and entertainment. The company's vision is to make 3D more accessible, affordable, versatile, and inspiring. With the SVI family of software and a variety of high quality glasses-free 3D displays, Spatial View offers a wealth of adaptable solutions enabling the presentation of 3D rich content of all types for specialty as well as the consumer mass market. The Wazabee line of products and applications includes: 3DeeShell, 3DeeFlector, 19-inch-Gaming Display, 3DeeCamera, 3DeeVUsion, 3Dee!oader, Hunter 3Dee, and 3DeeFriends.